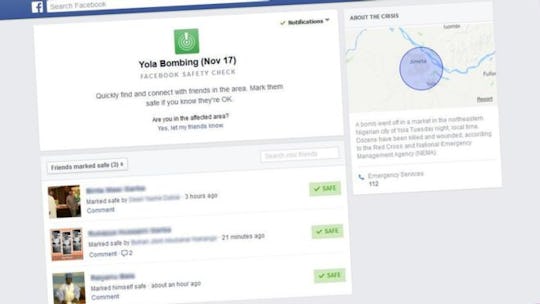 Facebook
Facebook's Safety Check Was Activated After The Nigeria Bombings Too, & It Looks Like We'll Be Seeing Even More Of It
While we typically use Facebook to update friends and family on what we're currently thinking/eating/watching/doing, the social network recently launched a new tool that's giving users peace of mind — and even saving lives — when tragedy strikes. Following Tuesday's Nigeria blast, Facebook activated their Safety Check feature, which lets users know if their loved ones are safe, or to mark themselves as safe in return. And in light of recent terror attacks in Paris and Beirut, the company intends to use this feature more frequently when disasters occur, according to CNN.
The suicide attack in Nigeria Tuesday claimed more than 30 lives in the busy market town of Yola. This region has been especially vulnerable to the Islamic militant group Boko Haram — which has been connected to two fatal bomb blasts in the city this year alone, the BBC reports. After the tragic attack, which also injured more than 80, Nigerian President Muhammadu Buhari tweeted this morning that "The enemies of humanity will never win. Hand in hand, we will rid our land of terrorism." A follow-upp tweet read: "May God rest the souls of the dead, heal the injured, and comfort the bereaved."
The tool may be new to many, but it is making a huge difference so far. Twenty-four hours after Facebook's Safety Check was launched during the Paris attacks, four million people marked themselves "safe." However, the tool didn't come without some criticism, namely from those who wondered why the safety check wasn't used for other international attacks prior to Paris. Previously, Facebook would only enable the app during natural disasters. But the social network didn't decide to launch the safety check during other recent attacks, like the one in Beirut Thursday — just one day before Paris. And what about back in April, when a group of Somali militants shot and killed 147 Nigerian students at Garissa University?
Earlier today, CEO Mark Zuckerberg announced that they will continue to use the feature for incidents other than natural disasters from here on out. "We're now working quickly to develop criteria for the new policy and determine when and how this service can be most useful," he wrote on his Facebook. Zuckerberg also took the opportunity to point out that while it may feel like the world is in chaos, fighting is "at an all-time low in history and continues to decline." In his uplifting message, the CEO continued:
Deaths from war are lower than ever, murder rates are generally dropping around the world, and — although it's hard to believe — even terrorist attacks are declining. Please don't let a small minority of extremists make you pessimistic about our future. Every member of our community spreads empathy and understanding on a daily basis. We are all connecting the world together. And if we all do our part, then one day there may no longer be attacks like this.
Since phone lines are inundated with calls during a disaster, the safety check is a great way for to reach out to friends and family at let them know you're OK, with just the click of a button. The hope, of course, is that the world begins to experience fewer events where a safety check would even be needed — but until that day comes, the tool can play a pretty invaluable role in times of need.
Image: Facebook