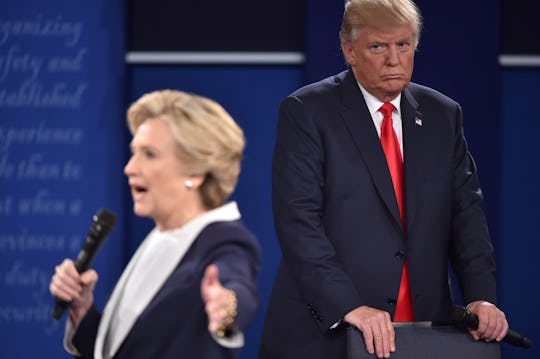 PAUL J. RICHARDS/AFP/Getty Images
Fact Checking The Presidential Debate Show That There Was Serious Dishonesty
The tension-filled second presidential debate promised to get rough, and it delivered. From dismissing the infamous hot-mic Access Hollywood tape as "locker room talk" to threatening to jail former Secretary of State Hillary Clinton for deleting her emails, Donald Trump apparently decided his best strategy was to go after Clinton with everything he could think of. Besides that, there plenty of questionable facts flying around. Luckily, there were many professionals fact checking the Presidential Debate, so let's go through some of the most egregious untruths told Sunday night.
Also noteworthy were the Trump guests in the room Sunday night. First he held a pre-debate press conference with women who have accused former President Bill Clinton of sexual misconduct: Paula Jones, Kathleen Wiley, and Juanita Broaddrick. He also invited Kathy Shelton, who as a girl accused a man of raping her when she was 12 years old. Clinton ended up representing the man Shelton accused in court decades ago. It was meant as a way to humiliate Clinton and throw her off her game, but instead she pulled out Michelle Obama's quote, "When they they go low, we go high," and just like that, the tension in the room began to dissipate and make room for other topics. Here's a fact check of the first presidential debate.
1. The Price Of Health Care
During the debate Trump said health care costs are "going up by numbers that are astronomical, 68 percent, 59 percent, 71 percent." According to NPR, premiums rose 3 percent last year and 20 percent between 2011-2016. But the average cost of health care to families has risen by 67 percent over the past five years, due to a rise in deductibles and co-pays, NPR reported.
2. The Trade Deficit
Trump said during the debate the U.S. ran an $800 million trade deficit last year. According to NPR, the 2015 U.S. trade deficit was $531.5 billion.
3. The Sex Tape
Trump denied he urged the American people to "check out sex tape." He did on Twitter in an attempt to disparage Alicia Machado, a former Miss Universe who accused Trump of harassment about her weight.
4. Clinton Laughed At A 12-Year-Old Rape Victim
As an attorney Clinton represented a man accused of raping a 12-year-old girl, Kathy Shelton. Trump accused Clinton of "getting him off" and "laughing on two separate occasions...at the girl who was raped." Both statements are false, according to FactCheck.org. Clinton's client didn't "get off"; he pleaded guilty to a lesser offense, and Clinton's laughing was in response to some of the out of the ordinary aspects of the case. Clinton never laughed at, or about, the victim, FactCheck concluded.
5. Clinton "Acid Washed" Or "bleached" Emails
According to FactCheck there is no evidence to back up the accusation that Clinton knew the emails were deleted following the subpoena. And according to NBC, there was no bleach or acid involved. The emails were deleted using an app called "Bleachbit."
6. The 2008 Clinton Campaign Started The "Birther" Movement
Trump rose to political prominence pushing an already debunked conspiracy theory that President Obama was born in Kenya, and therefore ineligible to be president. Many said the so-called "Birther" movement was a racist fueled attempt to de-legitimize the first black American president. Trump has defended his position by claiming the first questions about Obama's place of birth were raised by Clinton's 2008 campaign. It wasn't. In reality, a volunteer forwarded an email promoting the conspiracy and was fired as soon as it was discovered by Clinton Campaign Manager Patti Solis Doyle, according to FactCheck.
7. Trump Denies Assaulting Women
Asked by Anderson Cooper whether he's ever engaged in groping or unwanted kissing of women, Trump responded, "And women have respect for me, and I will tell you no I have not...." But following the release of the tape, several women have come forward with allegations of unwanted advances from Trump. Last May the New York Times reported Miss USA contestant Temple Taggart said Trump introduced himself to her by kissing her on the mouth. Erin Burnett also reported on CNN that a friend of hers had been kissed by Trump without consent, according to NPR. Trump's campaign has not responded to Romper's request for comment.
8. Trump says he was against the war in Iraq
No, he wasn't. "In a 2002 interview, Howard Stern asked Trump if he would support the invasion. Trump replied: 'Yeah, I guess so. I wish the first time it was done correctly,'" NPR reported.