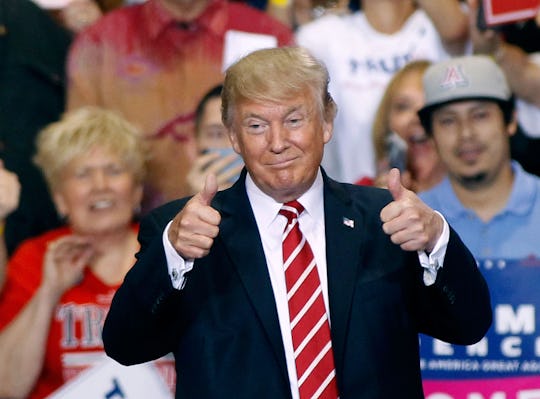 Ralph Freso/Getty Images News/Getty Images
Let's Fact-Check Trump's Phoenix Speech, Shall We?
On Tuesday, President Donald Trump appeared in Phoenix, Arizona to give a speech at a campaign-style rally, and, well, it wasn't exactly a huge hit. Thousands of people gathered in protest — in large part due to anger over the president's response to the white supremacist rallies in Charlottesville, Virginia earlier this month — and the night ended with police using tear gas against the crowd. But Trump didn't try to ease that division: instead, he delivered an off-the-script, angry speech that Vanity Fair described as "an hour-long public meltdown." As is so often the case, fact-checking Trump's Phoenix speech shows that many of the claims he made at the rally weren't even really accurate. But while some of the errors were eye-rollingly laughable, others were just straight up infuriating.
After the deadly weekend of protests in Charlottesville, many called on the president to condemn the white supremacist and neo-Nazis who had gathered with signs and torches in what they claimed was a protest against the removal of a Confederate monument. In an Aug. 12 statement, Trump did say that he "[condemned] in the strongest possible terms this egregious display of hatred, bigotry and violence," but then immediately called out the violence "on many sides," according to The New York Times. Two days later, at a press conference at Trump Tower, the president defended his position by claiming,
I think there is blame on both sides. You had a group on one side that was bad. You had a group on the other side that was also very violent. Nobody wants to say that. I'll say it right now.
Trump's take on Charlottesville naturally led to widespread outrage, but in Phoenix on Tuesday, he doubled down on his original comments. And this time, he also placed the blame for the backlash squarely on the shoulders of the media. Let's examine the claims he made Tuesday night:
The Media Distorted His Charlottesville Statement
Footage from Trump's Charlottesville statement was so widely circulated that, honestly, you probably would have had to put in more effort to avoid hearing what he had to say. But in Phoenix, Trump told the crowd that the media "[didn't] want to report that [he] spoke out forcefully against hatred, bigotry and violence," after Charlottesville, according to TIME, and that he "strongly condemned the neo-Nazis, the white supremacists, and the KKK" when he made his statement.
The president went on to say that he "openly called for unity, healing and love," and in an effort to prove it, he then read out his first Charlottesville statement to the audience, which he said was a clear condemnation of racism, and a call for Americans to unite and have "true affection for each other."
The problem? Well, according to The Guardian, Trump conveniently left out the part of his statement that was controversial — that is, he stopped short at reading the part of his statement that referenced violence on both sides. And it's not entirely surprising: after all, if you take that part out, then it does sound like his message was unfairly criticized by the evil mainstream media.
But while that may be a narrative that fit nicely in his speech, the truth is that Trump's original comment did not specifically call out the Charlottesville white supremacists, but the "hatred, bigotry and violence on many sides, on many sides." And in his follow-up statement? Trump doubled down, and told a reporter that the "alt-left ... came charging at, as you say, at the alt-right," according to The New York Times, and that the counter-protesters came "charging in without a permit and they were very, very violent."
In other words, Trump may honestly think that the media intentionally twisted his message. But in reality, it was his own words that led his subsequent mention of unity and love to be largely ignored.
The Protest Crowds Were Small
Ahead of Trump's Phoenix speech, many different groups pushed to organize protests outside of the rally, but if all you had to go on was Trump's word, you'd have likely thought that they hadn't actually been successful. According to CNN, one of the very first things Trump told the crowd was that the Secret Service said "there aren't too many people outside protesting." But there were actually thousands of protesters that lined both the streets surrounding the convention center, as well as filling up a nearby parking garage.
His Own Crowd Was Gigantic
Trump has claimed before that the media has downplayed the size of the crowds at his rallies and speeches, and in Phoenix, he specifically asked the cameras present to show the "rather incredible" crowd, adding that when he held his first rally speech in Phoenix, the crowd was "almost as big as tonight." Trump said,
You know I'd love it if the cameras could show this crowd, because it is rather incredible ... As everybody here remembers, this was the scene of my first rally speech, right? The crowds were so big, almost as big as tonight, that the people said right at the beginning, you know, there's something special happening here.
But as big as Trump may have thought the crowd seemed, PolitiFact noted that he had a few major details totally wrong. For one, Trump has previously exaggerated the number of supporters in attendance at his July 2015 rally in Phoenix. Although he's claimed that as many as 10,000 to 20,000 people showed up, the room itself had a maximum capacity of only 4,200 people, and the Phoenix Fire Department said the doors were closed after 4,169 attendees.
The good news for Trump is that the crowd at the Phoenix Convention Center was almost certainly much bigger — according to AZCentral.com, the venue's capacity was 19,000, though it didn't appear to be filled. But the bad news? The Washington Post reported that the crowd appeared to get bored as his speech continued for over an hour:
Hundreds left early, while others plopped down on the ground, scrolled through their social media feeds or started up a conversation with their neighbors. After waiting for hours in 107-degree heat to get into the rally hall — where their water bottles were confiscated by security — people were tired and dehydrated and the president just wasn't keeping their attention.
He's Made Great Progress On Border Control
Trump has long advocated for strict border control measures, and his proposed wall between the United States and Mexico was a huge focus of his presidential campaign. In Phoenix on Tuesday, Trump said that he'd met earlier that day with ICE and Border Patrol in Arizona, and claimed that the number of people crossing the border illegally was down "78 and almost 80 percent." That sounded impressive, but according to PolitiFact, it's not accurate — and it's also not the first time he's made the claim.
In a speech in New York last month, Trump claimed that "the border is down 78 percent," and that, "under past administrations, the border didn't go down, it went up." It's not clear where he got that figure, but according to PolitiFact, it's likely that he chose to compare the difference between the month with the highest number of border apprehensions (November) with the lowest (April), even though the number began increasing again in May. Between July 2016 and July 2017, the number of apprehensions at the southwest border decreased by about 46 percent, which is significant, but far off from what Trump actually considers the number to be.
Let's be honest, Donald Trump has never exactly been known for his truthfulness, and unless you're a die-hard Trump supporter, you've probably caught on to the fact that many of his claims can be taken with a grain of salt.
However light on facts, the president's remarks were definitely full of statements that his supporters want to hear. And as long as he continues to give speeches like that, he can probably continue to expect large numbers of protesters — whether he acknowledges their presence or not.