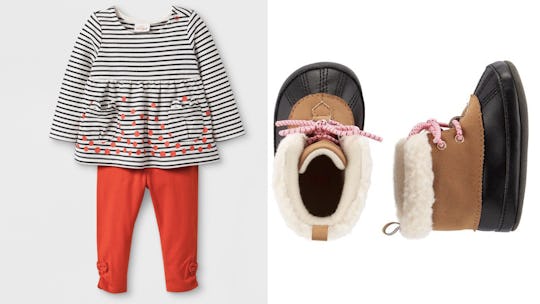 Target/Carters
Fall Clothes For Babies To Outfit Those Hayrides & Pumpkin Patch Trips
The little nip in the air is finally here, and of course pumpkin spice everything is for sale. It's fall at long last. Make the most of the season with these fall clothes for babies, because your little one needs more protection from the oncoming cold. Plus, the miniature flannels, sweaters, and even boots are too precious to pass up. As usuals, babies can work a look like nobody else.
Whether you and the family are planning to explore a pumpkin patch, go apple picking, or enjoy any number of outdoor fall activities, make sure your baby is dressed the part. In general, it's smart to make sure your baby is dressed in the same number of layers as adults, plus one additional layer, as explained in What To Expect. So if you're fine outside in a sweater, your baby might need an extra jacket. It's just something to keep in mind as the temps continue to drop.
Plus, fall fashions are one fall tradition your kid can enjoy in full right now. Your baby probably isn't sipping on a pumpkin spice latte or hot apple cider quite yet. But all the clothes of autumn are well within your kid's reach, from plaid print pants to super cute cardigans. Read on to find the perfect look for your kid.