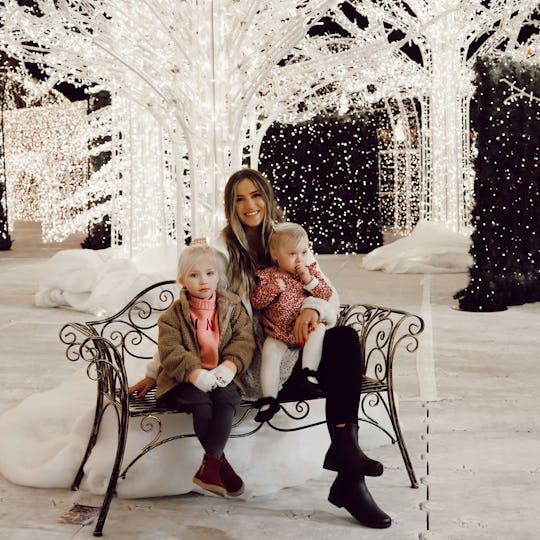 Families Cuddle Just a Little Bit Closer During The Holiday Season In Seattle
Seattle sure knows how to get into the holiday spirit. From a spectacular Christmas tree display and a festive cruise around the skyline to a dazzling light show that is sure to amaze, the Emerald City pulls out all the stops when it comes to spreading winter cheer the whole family can enjoy. Whatever level of holiday joy you and your little ones are looking for this season, downtown Seattle has you covered.
As a Seattle native and mother of two (with one more on the way), I for one know just how much a special holiday season in this city can bring a family together to create memories that can last a lifetime. Recently, the folks at Romper asked me to share my tips for a holiday excursion through Seattle that will keep the kids entertained and the parents happy. Let me take you with me as we enjoy the merriment of Seattle's sights as well as some tasty stops along the way.
Argosy Cruise's Christmas Ship™ Festival
Get lost in the history and sights of Seattle with a whole new perspective! Each year, Argosy Cruise decks out their ships inside and out for their annual Christmas Ship™ Festival, making their cruises a must-see holiday destination for adults and kiddos alike. The Official Christmas Ship™, Spirit of Seattle, is decorated with hundreds of shimmery white lights and sails to different Puget Sound waterfront communities – around 65 in all. Choirs on the Christmas Ship™ perform to guests on board and communities gathered on shore. With so much packed into a single trip, you can be sure that when you take an Argosy Cruise during the holiday season, there's just about something for everyone.
Pike Place Market
Did you even go to Seattle if you didn't stop by Pike Place Market? This market is known for its iconic fish throw, insanely beautiful fresh market flowers, plus their delicious treats and eats!
Established in 1907, Pike Place Market is Seattle's original farmers market. Within Pike Place Market's first week, 70 wagons were heading to the market every day to sell and buy produce, dairy, eggs, and more. Now you can find specialty goods, incredible food, arcade games, thrifted items, coffee shops, and unique Seattle experiences. Even after living in Seattle for many years, the Market is one of my favorite Seattle spots and it's especially beautiful during the holiday season.
The Crumpet Shop
Nestled in Pike Place Market, The Crumpet Shop is a long-running local favorite offering sweet and savory toppings on house made crumpets, plus an array of teas and coffees. This shop is perfect for a quick bite in the morning or afternoon, when busily shepherding your kids through a Seattle winter wonderland. Just thinking about their crumpet with ricotta and preserves still has my mouth watering.
Enchant Christmas at T-Mobile Park
If you come to Seattle for the holidays, you have to visit T-Mobile Park to see the lights at Enchant Christmas! With a Christmas lights maze, ice rink, and Christmas market, this is a surefire way to get you into the holiday spirit quick. The display is so big, you will forget you are in a baseball stadium, and instead feel transported to a wintery holiday wonderland.
Westlake Center and Westlake Park
Check some holiday gifts off your list at a four-story shopping center centered in the heart of downtown Seattle at the Westlake Center. From in-store demos and classes to a wide variety of entertaining activities, they're always offering fun experiences at Westlake Center's shopping mall. Delight in the lights outside, jump on a ride at the Downtown Seattle Association's Holiday Carousel, find the perfect gift at the nearby Holiday Market – a collaboration between DSA and Urban Craft Uprising – or simply explore the city streets to get to the heart of that holiday feeling.
Charlie Brown Christmas Live On Stage at Moore Theatre
Seattle offers a wide variety of live shows, and entertainment. For this trip, we visited the Moore Theatre, to see the Charlie Brown Christmas Live on Stage, presented by Seattle Theatre Group (STG). It was the perfect activity to get my kids and I into the holiday spirit. Seattle has an incredibly dynamic art and theater scene, with shows and events everyone in your family will enjoy. Other seasonal events include the Seattle Men's Chorus holiday event ('Tis The Season), holiday programming at the landmark 5th Avenue Theatre (which this year includes Mrs. Doubtfire), and The Christmas Carol at A Contemporary Theatre in downtown Seattle's historic theater district.
Top Pot Doughnuts
At Top Pot Doughnuts, they elevate the humble doughnut to an art form all its own. They call their doughnuts "hand-forged" because they're made the old-fashioned way. As a result of doing things the old fashioned way, the unique characteristics of each doughnut are preserved and heightened by their skilled bakers. With more than 40 different options to choose from, each person will find a doughnut that fits their preferences.
The Gingerbread Village
Each year, the Sheraton Grand Seattle's culinary team and top local architecture firms get together to design and bake larger than life gingerbread houses. The Gingerbread Village brings holiday cheer to Seattle, with insane detail, and fun designs to spark joy in all of us. This year marks their 27th Annual Gingerbread Village, which they bestowed with an "#ElfLife" theme, featuring elves of all kinds, with a special touch honoring the JDRF Elves.
Dough Zone Dumpling House
Warm up in this casual Chinese eatery, with yummy soup-filled dumplings, pan-fried buns, and delicious noodle bowls. Dough Zone Dumpling House puts you on a wild excursion of exotic flavors, right in the hustle and bustle of Chinatown-International District in Seattle, or visit their other location located right in the heart of Downtown Seattle.
Seattle Festival Of Trees
The family and I walked into the Fairmont Olympic Hotel, a stunning historic building in the heart of downtown. Nestled in the lobby was one of the most beautifully decorated Christmas trees I have ever seen. At the Seattle Festival Of Trees Celebration event, there were carolers singing on the staircase, and children and adults running around in excitement looking at the more than 20 different decorated holiday trees throughout the hotel lobby. The hotel also features a life-size gingerbread house, and designs an annual "Teddy Bear Suite."
The Seattle Festival of Trees Guild is one of the Top 10 guilds fundraising for Seattle Children's Guild Association. They have raised over $8 million over 42 years through the annual festival and gala. Funds benefit Seattle Children's Uncompensated Care Fund and their Autism Center.
Tavolàta
When the weather outside became a bit frightful, the family and I escaped the rain inside of Tavolàta, a delicious Italian spot located in the Belltown district of Seattle. We enjoyed the most delicious appetizers, and pasta, and left already wanting to go back. While a more upscale dining experience, the kids definitely enjoyed the food just as much as we did, if not more. A great spot to hit up whether you are in Belltown, or closer to their sister location in Capitol Hill.
Julefest at the Nordic Museum
Located in the Scandinavian neighborhood of Ballard, Julefest is an annual event that turns the Nordic Museum into a winter wonderland the weekend before Thanksgiving, with dozens of vendors to help you find the perfect present for everyone on your list. Look for authentic Nordic treats, kids' crafts and activities inside Santa's workshop and even meet Santa himself! We signed up for Santa's workshop, and helped our kids make holiday Elf hats. They had the best time, and we left with a lot more knowledge on the history of the Nordic people!
They also had live music, dancing, and lots of yummy authentic Nordic food, so this fest is one you'll want to make time for. Even after Julefest, the Nordic Museum is still a must-see holiday destination with extensive holiday programming offered throughout the season.
Ivar's Acres Of Clams
Head into this iconic spot to satisfy your craving for Northwest seafood, with award-winning preparations to reflect the season's bounty, some made with Ivar's world famous original recipes. The flagship Ivar's Acres of Clams location, along the historic Seattle Waterfront, overlooks the beautiful Elliott Bay and is filled with rich history of its original restaurant that opened in 1938. Every time we visit this spot, we can't leave without ordering their clam chowder. It'll warm your body and soul, and keep you reminiscing on the taste for days, even weeks. Although fancy inside, they cater to parents with small children, offering a special menu and coloring pages, making dining with kids that much more enjoyable.
CJ's Eatery
We stumbled upon CJ's Eatery the following morning when we were trying to find a place for breakfast and, oh boy, I'm glad we did. It was such a yummy casual dining experience, replete with delicious comfort food. We were seated quickly, and they were ultra accommodating to kids! The menu was full of delicious options, and we could have ordered anything and loved it.
Molly Moon's
Molly Moon's offers tasty ice cream with unique flavors and toppings and was the perfect end to our holiday filled weekend in Seattle. Perfect for the whole family, try a few flavors and even take a pint home to enjoy later!
From live action cartoons to history lessons, to treats, gifts and oh so many lights, the Emerald City is one of the most unique and touching places to bring the whole family to get everyone just a little bit jollier. With a weekend like this, you'll have the kids begging you to visit Seattle each and every holiday season.
Photos by Ciera Hudson.
This post is sponsored by Visit Seattle.