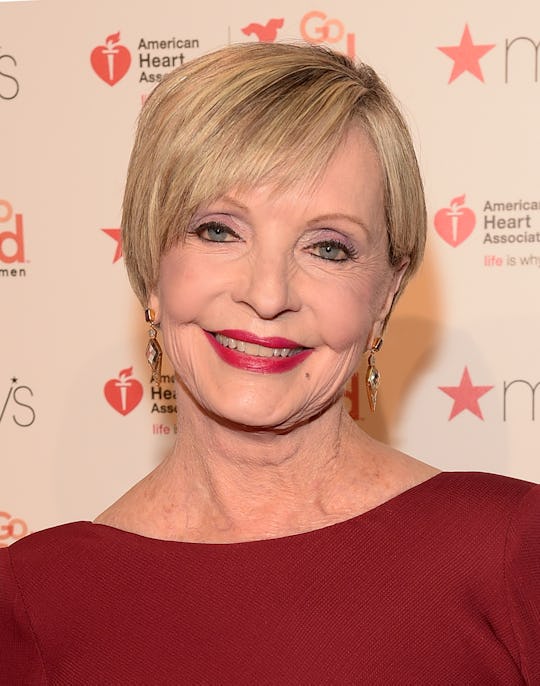 Theo Wargo/Getty Images Entertainment/Getty Images
Fan Reactions To Florence Henderson's Death Prove She Was More Than Just "A Lovely Lady"
Hollywood, and those entertained by it, were shocked and saddened to hear that Florence Henderson died at 82 years of age, late Thanksgiving day. As the news of her passing quickly spread, fan reactions to Florence Henderson's death prove that her role as the beloved Carol Brady on the ABC sitcom The Brady Bunch, solidified her as America's mom; then, now, and always. Not only did she care for three boys and three girls of the blended Brady family from 1969 to 1974, she — in a way and for much longer than the five years The Brady Bunch aired — cared for us all.
After enjoying a successful career spanning more than 60 years, Entertainment Tonight reported that Henderson died of heart failure in a Los Angeles hospital, surrounded by family and friends. (Romper reached out to Henderson's representation for statement.) While her role as the impossibly kind and benevolent matriarch of The Brady Bunch was somewhat short, her rendition of the mother who could "do it all" made her a television icon. On her Facebook page, Henderson wrote, "I played Carol as the mother I always wished I had, as the mother a lot of people wish they had." She did it well, as made heartbreakingly obvious by her fans' reactions to her death.
Henderson was last seen just a few days prior to her death in the audience of the hit television show Dancing With The Stars. Henderson had made numerous appearances on the dance competition, supporting her former television daughter Maureen McCormick, who played Marcia Brady. Henderson even made a small cameo in one of McCormick's performances, channeling Mrs. Brady and introducing her former-television daughter with the iconic, "Marcia! Marcia! Marcia!" before McCormick and her dance partner, Artem Chigvintsev, took the floor and danced a quickstep. Fans pointed out that Henderson looked wonderful, healthy, and happy, so news of her death was nothing short of shocking.
It's clear to see that Henderson was not only loved by many, she was a pivotal part of so many people's childhoods. Whether she provided viewers with a few laughs, or gave them a mother figure they didn't have in their own lives, Florence Henderson will live on as mom to us all. Even though she's gone, we can visit her in reruns, and remember that there is no one "right" way to have a family. Family, in the end and always, is whoever you decide it to be.