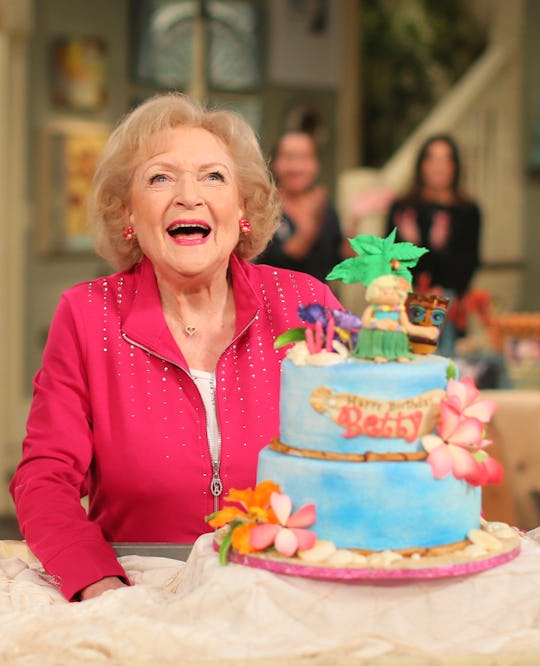 Mark Davis/Getty Images Entertainment/Getty Images
People Were So Pumped Betty White Made It To 95
America's favorite grandma, Betty White, turns 95 years old today, and her fans on social media are so excited to wish her well. The American actress, animal rights activist, and television personality is celebrating a rather remarkable birthday, and as beloved an icon as she is, there was no way her fans were about to let such a monumental occasion pass without recognizing the event. Many of the best fan tributes to Betty White on her 95th birthday come from Twitter, though the internet in general seems to be celebrating the milestone today.
Betty Marion White Ludden, better known simply as Betty White, is known for her turn as Rose Nylund on The Golden Girls, and more recently, she starred as Elka Ostrovsky on the sitcom Hot in Cleveland on TV Land, which ran until 2015. She's also been in films, like the 2009 romantic comedy movie The Proposal with Ryan Reynolds and Sandra Bullock, and has added her talents to smaller parts and cameos on the big and small screens as well as to voice acting roles. Her career is so long-lasting that in 2013, the Guinness Book of World Records awarded her the official record for Longest TV Career for an Entertainer (Female).
Fans took to twitter and other social media outlets to express their joy over the actress making it to another birthday, especially after 2016 stole so many of our favorite entertainers from us, leaving one fan to create a GoFundMe with the sole purpose of protecting White until Jan. 1. Well, she made it, and her birthday has not gone unnoticed by the fans who adore her.
In a video making the rounds on Twitter, one fan tweeted, "In honor of Betty White turning 95 today and starring in my favorite show of all time!! The Golden Girls," and included a video of someone singing a rather passionate cover of the now infamous Golden Girls theme song.
Fellow celebrities are fans of White too. Actress Kristen Schaal tweeted, "Happy Birthday Betty White! Please stay alive forever. I promise no one will think it's creepy! x"
After the terrible wave of celebrity deaths that 2016 seemed to bring, seeing White's name trending could have cause to freak fans out initially. But a quick scan of Twitter proves there's nothing to fear — only celebrations are in order.
The love and devotion fans feel is reflected in this tweet, stating, "happy 95th birthday to America's most protected and loved woman! The one and only queen, Betty White."
And sometimes a simple salute can say the most:
One fan pointed out that White is in good company, sharing a birthday with Muhammad Ali and First Lady Michelle Obama.
And one tweet reminded us of what we should all aspire to do: reach the same age as Betty White has while remaining as cool as ever (if not cooler).
So happy birthday, Betty White. We hope your sit-down with Katie Couric was wonderful, but if you really wanna stay positive, maybe check out some of the memes floating around celebrating the auspicious occasion of your birth.
May we all reach 95 and still be as awesome and beloved as Betty.