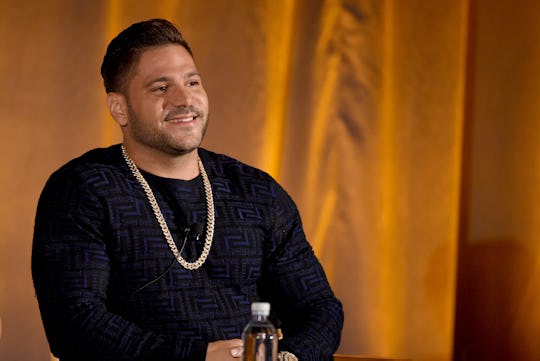 Kevin Winter/Getty Images Entertainment/Getty Images
Fans Are Coming After Ronnie Ortiz-Magro For This Photo Of His Baby On The Beach
`When it comes to social media, new parents are damned if they do and damned if they don't. Plaster your feed with adorable baby photos every day and you're insufferable. Keep your kid off social media altogether and people start complaining. And it's roughly 1 million times worse for celebrity parents, because someone always finds something to bash them about. For example, fans are now coming after Ronnie Ortiz-Magro for bringing his baby to the beach. But, while their concerns may certainly be valid, do they even know the whole story?
On Monday, the Jersey Shore star posted an Instagram photo of himself holding his infant daughter, Ariana, at the beach. His little girl was wearing an oversized sun hat, and was looking generally adorable sitting there with her daddy. Cute, right? Enter: The parenting police.
"You guys drag that poor baby everywhere it makes me cringe," one follower commented.
"Too young for the beach," another person wrote.
"She should be under an umbrella and covered!" yet another Instagram follower wrote. "A baby this age has no business at. the beach. Is a photo-op that important?!"
Yikes.
Aside from blatantly slamming Ortiz-Magro for taking his infant daughter — whom he welcomed in April with Jen Harley, according People — to the beach, others provided more specific information backing up the criticism.
"It's 6 months! Before that they shouldn't rly be in direct sunlight, it's not good for their skin or their lil eyes," one person advised.
Similarly, another follower wrote, "Actually, it's recommended to keep babies under six months out of the sun altogether. Their skin is really delicate and can burn even if it isn't sunny out."
According to the American Academy of Pediatrics (AAP), it is true that babies under 6 months should be kept out of direct sunlight if possible and should instead be kept in the shade and/or in lightweight clothing that covers their arms and legs. The AAP also advises that parents can apply a small amount of sunscreen if adequate shade isn't available. (Like at the beach.)
However, others did have a valid point about the dangers of intense heat. "Actually it was 91 degrees today so any kid under two should have been some where cool. Especially an INFANT," one person commented on the photo.
While the AAP doesn't have an official statement about babies and excessive heat, it's true that infants can overheat much more easily than adults, according to Fit Pregnancy. "It is not OK to take a newborn or any infant outside when it's very hot—over 80 degrees or so," Dr. Jan Montague, director of pediatrics at Good Samaritan Hospital in Suffern, New York, told the publication. Because babies' bodies aren't as efficient at cooling off, "they can often suffer heat stroke much quicker than an older child or adult," Montague added.
Even so, do we really know from one photograph how long Ortiz-Magro was out there with his baby? Maybe they took the photo, hung out for five minutes, and then left. (So heat exhaustion and dehydration wouldn't have been an issue at all.) Perhaps there was a tent or an umbrella just out of the camera's sight, under which Ariana stayed when they weren't snapping photos together. Maybe they were at the beach earlier in the morning, before the heat got too intense. The bottom line: Though these fans' concerns are certainly valid, it's hard to get the entire story from a single photo posted on social media.
For the record, a fair amount of followers did come to the new dad's defense.
"Welcome to the world of having complete strangers tell you how to parent," one person sarcastically commented.
Another follower chimed in with, "Everyone I'm sure he keeping her safe they just taking a quick picture."
Yet another person wrote, "People are crazy how is she too young for the beach lol. I'm lost people that say this, their kids are the ones who will get sick easily because they keep them in a bubble."
While it's clear Ronnie Ortiz-Magro's followers have baby Ariana's best interests at heart, I'm sure her father does, too. So instead of shaming him for taking a cute photo at the beach, how about we leave an appropriate, "Aww, so cute!" comment, give him the benefit of the doubt, and move along. Because parenting is hard and we already second-guess ourselves enough as it is, without the help of overly-critical online strangers.