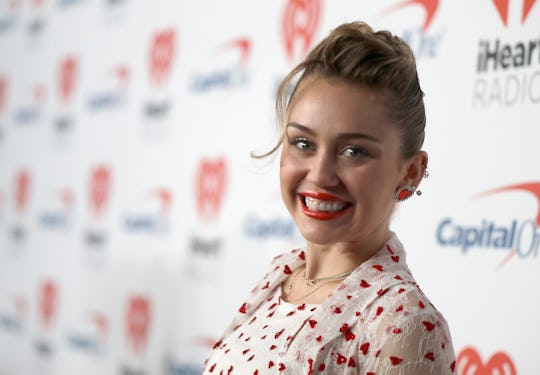 Isaac Brekken/Getty Images Entertainment/Getty Images
Fans Are Convinced Miley Cyrus Is Pregnant In This Thanksgiving Photo
Happy Thanksgiving! Thursday, Nov. 23 is turkey day here in the U.S. — and if you happen to be Miley Cyrus, it means you have twice the reason to celebrate. That's because The Voice judge and singer turns the big 2-5 today. It also means that Cyrus — who is outspoken about being vegan — is probably chowing down on some tofu turkey right about now. Or at least that was the plan yesterday, according to an Instagram photo she shared. Except now, fans are convinced Miley Cyrus is pregnant in this Thanksgiving photo, and that's so not cool to do to a woman.
On Nov. 22, Cyrus posted a wide shot of her striking a pre-birthday pose. "So close to b-day time!" she wrote. "Stoked for a day full of Tofurkey & loved ones! Ain't it ironic? #VeganTurkeyBaby." (Oh, hey Liam! See Cyrus' boyfriend in the reflection of the mirror, snapping the photo?) *Eyes drift back to Miley* Wait, what? Why are her hands resting suspiciously on her tummy? And is it just the angle, or is she purposefully trying to jut out her belly? Baby?! As in a "food baby?" Or, OMG could it be? Is Miley Cyrus pregnant with Liam Hemsworth's baby?
This, apparently, was the line of thinking of many of the star's followers, according to Us Weekly. "Uhm…..is that a baby bump?" one person asked directly. Another person chimed in with, "Come on! That belly can't be from the thought of eating turkey for thanksgiving!!!" Yet another follower had a special requiest, writing, "Happy birthday xx btw the news and that are saying you look pregnant in this pic so please tell us if you are or not because we already have kylie keeping it from us."
Despite many fans mistaking Cyrus' food baby for a real bun in the oven, there were still a few level-headed Instagram users who set them straight. One person wrote, "We're allowed to wear baggy tops on a daily basis and we're more so allowed to have a tummy. Why does everyone have to assume you're 'pregnant' if you were a baggy top where it looks like you've got a tummy. It could just be a food baby."
Judging by the evidence we have to go by, all signs are pointing to food baby for the win. There's the hashtag, which is a huge giveaway. There's also this selfie, which the former Hannah Montana star posted literally two hours beforehand — proving it's all about the angle and the outfit. And the meal, of course.
Another theory explaining the food baby photo, according to TMZ, is that Cyrus elicited the exact response she was hoping for. "She loves screwing with the media, so don't read too much into this," TMZ reported. "But she knew what she was doing for sure when she wrote the caption." Hmmm. I'm not convinced.
As far as the pregnancy rumors are concerned, everyone needs to CTFD. Food babies are legit — especially following a Thanksgiving meal. (I know I'm sporting one right now after all of the delicious foods and desserts I've indulged in today.) Cyrus even completes her caption with "#VeganTurkeyBaby." Do we really need her to spell it out for us? Should she have to go back and add, "#notpregnant" for everyone to stop commenting on her body? Apparently so. E! Online reports Cyrus posted on Instagram Stories, "Not pregnant, just eating a s--t ton of Tofurky...RUDE!!!!"
There we have it, folks. Miley Cyrus is not pregnant. However, even if she hadn't hinted at her food baby via hashtag — newsflash! There are plenty of other reasons for a bumpy belly. Like period bloating, for example. Or simply carrying more weight in that area. Because yeah, it happens. Even to celebrities. So maybe social media as a whole should remember this next time they have the urge to comment about a suspected pregnancy. Because unless a woman has offered up this information herself, you risk looking like a huge jacka**.
Check out Romper's new video series, Romper's Doula Diaries:
Watch full episodes of Romper's Doula Diaries on Facebook Watch.