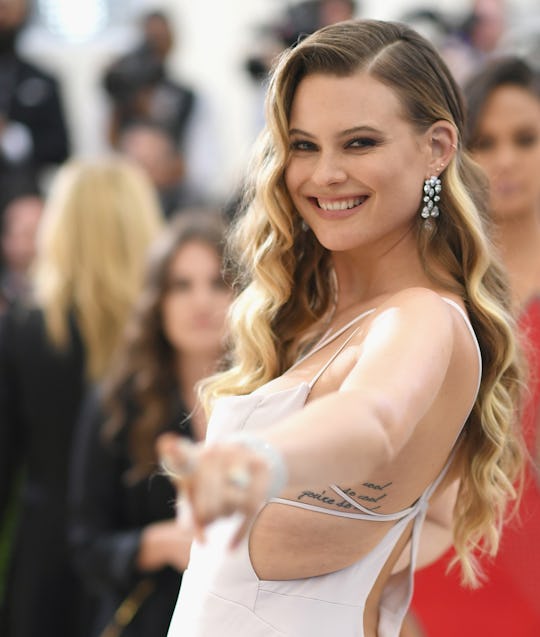 Dimitrios Kambouris/Getty Images Entertainment/Getty Images
Fans Are Judging Behati Prinsloo For This "Pump & Dump" Photo, & It's Ridiculous
Behati Prinsloo is a mom of two. She's also apparently a fan of the Coachella Valley Music and Arts Festival, and moms are definitely allowed to have fun at the event alongside all the youngin's who don't have little ones, despite what some mom shamers may think. Prinsloo herself welcomed her second daughter just about two months ago, and is apparently breastfeeding her, because Prinsloo posted a "pump and dump" breastfeeding photo from the festival on Friday that has fans up in arms. Because anytime a celebrity shares anything having to do with breastfeeding, you know fans will have something to say about it.
In case you're not aware of what "pumping and dumping" is (and I certainly wasn't, at least not using that term), the process involves pumping breast milk and then throwing it away, instead of saving it for your baby, according to The Bump. The site reports that some women think they have to pump and dump to help remove alcohol from their breast milk after drinking — but that's a myth, The Bump explained.
I guess the implication here is that Prinsloo was drinking at Coachella, and did a "pump and dump" to get the alcohol out of her breast milk. But she never said that's definitely what she was doing, and no matter why she chose to do it, it's not really her fan's business anyway.
In addition to the single photo Prinsloo posted, with the caption "#pumpanddump," the Victoria's Secret model also added a different caption to the photo in her Instagram Story later on, according to Us Weekly. It read: "More like cowchella lol, Jamiroquai was sooooo worth the pump and dump."
So at the very least, we know that Prinsloo enjoyed herself at the festival, and there's nothing wrong with that. But fans were not very happy with her for "wasting" her precious breast milk.
Comments on the Instagram post ranged from "Nooooooo. Such a waste of milk. You don't need to pump and dump!!! Please research the topic," to "why dumping though?" and "Never pump and dump!!!!!" Clearly, commenters had a whole lot of feelings about the practice, and they let Prinsloo know it.
La Leche League Great Britain reports that sometimes breastfeeding moms can receive "conflicting" information on whether drinking alcohol can impact their baby. However, "alcohol...freely passes out of a mother's milk and her system so there is rarely need to express milk and throw it away," according to the organization. So if Prinsloo was drinking, as long as she didn't try to breastfeed her daughter immediately after and gave her body some time for the alcohol to pass, she probably would have been fine.
But the fact is, we don't actually know why Prinsloo chose to "pump and dump." She could have had a totally different reason for it. I don't know what that reason would be, but that's kind of my point — followers or fans or anyone besides Prinsloo (and, presumably, whoever took the photo in question) are not privy to the situation, so it's not really their business to make a snap judgment about it.
And let's say that Prinsloo decided to pump and dump because she really did think she needed to dump her breast milk in order to protect her child. In that case, if fans still felt the need to butt in, wouldn't it be better to offer resources and information, rather than rude or uninformative comments?
Prinsloo and entertainer Adam Levine have two daughters together — Dusty Rose and Gio Grace — according to Entertainment Tonight Canada. So presumably, she's done a lot of this mom stuff before. Ultimately, fans really don't know what went into her decision to dump her breast milk at Coachella, whether it's because of misinformation, or on the advice of her doctor, or something else. It's true that Prinsloo posted the photo, and maybe some people feel like that means her breastfeeding choices are now their business. Who knows.
But Prinsloo clearly meant for it to be a tongue-in-cheek, relatable mom moment from an event where she's really enjoying herself, and that backfired a little bit. Some of the comments on her Instagram post were kind, but far too many were judgmental, and that's really too bad.
Check out Romper's new video series, Bearing The Motherload, where disagreeing parents from different sides of an issue sit down with a mediator and talk about how to support (and not judge) each other's parenting perspectives. New episodes air Mondays on Facebook.