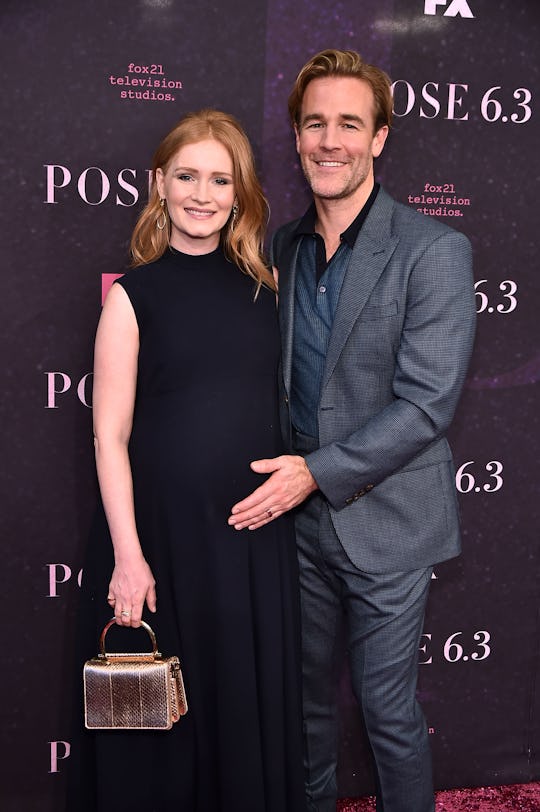 Theo Wargo/Getty Images Entertainment/Getty Images
Fans Are Loving James Van Der Beek's Honest Photo Of His Wife's Home Birth
Dawson — ahem — I mean James Van Der Beek is now officially a dad to five little ones. Shortly after he and his wife welcomed their new daughter Gwendolyn in the comfort of their home, he posted a shot to Instagram of the aftermath. Despite it being described as "graphic," fans are loving Van Der Beek's honest photo of his wife's home birth.
People reported that Van Der Beek and his wife Kimberly were joined by baby Gwendolyn early Friday morning via a home birth with a doctor and a midwife on site. Three of their other children — daughters Olivia, 7, Annabel Leah, 4, and Emilia, 2 — were also born at home, while their eldest son Joshua, 6, was born in a hospital, according to People.
Van Der Beek posted a photo to Instagram that shows the reality of Gwendolyn's birth, which he titled "The Category is: Home-Birth Realness." He went on in the caption to describe what can be seen in the post, including a "messy" bed, plastic sheeting, an old towel, an unused vomit bag, an inflatable birthing tub, himself, his son in Spider-Man pajamas, mom and baby, a water bottle, and "placenta in a mixing bowl … (I warned you)." All of these details combine to provide his followers with a candid peek into the setting of Gwendolyn's home birth, and fans are eating it up.
The proud dad included a disclaimer with his post, writing, "Word of caution, if you're squeamish, just double-tap and move on." While some may be caught off guard by the placenta in clear view, many of his followers were thrilled by the honesty that shines through the photo. One person wrote, "I absolutely love this! I gave birth to my daughter at home. It's the most wonderful and surreal experience. Congratulations!" Another, a midwife, praised the couple for normalizing birth:
I cannot yell PREACH to this loud enough! Thank you both for being advocates for birth (breech or otherwise) as a normal physiological process. Massive love to all of you from a very grateful UK midwife xxx
Yet another fan chimed in to say, "There's nothing I DONT love about this! #allthefeels."
"Real life. None of that photoshop BS," wrote another.
My personal favorite aspect of Van Der Beek's photo is the skin-to-skin that he shares with baby Gwendolyn. While kangaroo care is almost second nature to many moms, dads also benefit greatly from stripping down and cuddling up with baby. According to Pampers, "the benefits of skin-to-skin contact with dad include bonding with their baby, feeling more confident as a father, and feeling a surge of protectiveness toward their baby." Additionally, both mothers and fathers help to regulate their baby's temperature and heartbeat during skin-to-skin, and release hormones like oxytocin, prolactin, and endorphins in both themselves and their littles. By showing himself enjoying a bit of skin-to-skin, perhaps Van Der Beek will encourage other new dads to do the same.
Kimberly Van Der Beek commented on the post to share a bit more information about her birth plan, aside from opting for a home birth. According to her comment, she also decided to delay clamping Gwendolyn's umbilical cord so that it could be encapsulated:
Keeping it attached to the baby after birth helps the baby get all the blood that is pumping into the child. If it is claimed and cut right away the baby doesn't get all the blood. Also, many people choose to consume it (I encapsulated mine for four births) to get the nutrients it contains.! Many animals do this and many people find that it helps with post pardom [sic] recovery. *if it is clamped and cut right away.
Home births are somewhat popular in the world of celebrity parents. Big names including Pamela Anderson, Meryl Streep, Demi Moore, and Alanis Morissette delivered their babies at home, according to Café Mom. Van Der Beek's honest post provides his followers with an inside look at home births and helps to normalize "graphic" content like Gwendolyn's attached placenta. Kuddos to you, Dawson, and congrats to the happy family!