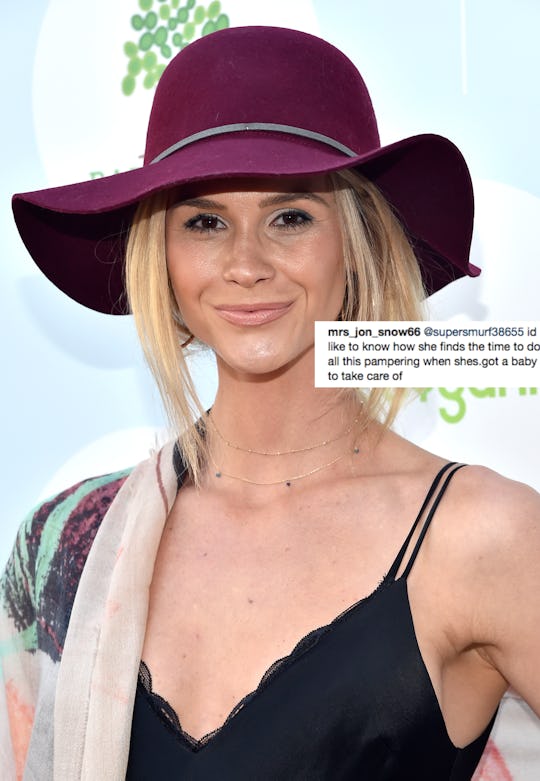 Alberto E. Rodriguez/Getty Images Entertainment/Getty Images
Fans Are Shaming 'RHOC's Meghan Edmonds For A Bikini Bump Pic, & It's Not OK
In November 2017, Real Housewives of Orange County star Meghan Edmonds announced her second pregnancy. Edmonds, who went through in vitro fertilization (IVF) to get pregnant, will welcome twin boys with her husband, Jim Edmonds, in June 2018. Ahead of the delivery, Edmonds jetted off from her home in St. Louis, Missouri, to a luxurious hotel in California for her babymoon. And while most people have been supportive of the mom throughout her vacation, some fans are shaming Meghan Edmonds' recent bikini bump pic. From critiques about Edmonds' weight to commentary about her supposed privilege, the backlash is completely uncalled for.
In case you're not too familiar with Edmonds' backstory, she conceived her twins and her daughter, Aspen, through IVF. Edmonds' husband, Jim, had a vasectomy before the two met, but the couple were able to conceive using his previously frozen sperm. Although the first round of IVF was incredibly difficult for Edmonds, the second go-around was a lot easier. "I felt like I handled this IVF much more in stride," Edmonds said of her most recent IVF journey, according to her website. "I'm not sure if it's because I knew what to expect or if maybe my body was used to the hormones, but it was easier."
Adding to Edmonds' joy — her second attempt at IVF gifted her with twin boys. Edmonds, who "really wanted" a boy this time, captioned her December 2017 announcement of the twins' sexes, according to Instagram: "Surprise, surprise! We're having TWINS! Oh boy oh boy! #doubletrouble #threeundertwo."
And given how thrilled Edmonds is to be a mom to twin boys, it's really no surprise she decided to treat herself to a babymoon five months into her pregnancy. From practicing yoga to enjoying room service, Edmonds is clearly having a ball on her trip.
Of course, social media savvy Edmonds couldn't help but share her babymoon joy with her followers on Instagram. On Wednesday, a bikini-clad Edmonds shared a pic of herself enjoying some pool time at the resort. Needless to say, Edmonds' growing bump is front and center in the shot.
"Breakfast in bed, yoga, then spa and swim day @ranchovalencia?" Edmonds captioned the post, according to Instagram "Yes, please?! The day's not even over yet! #babymoon howdoyourancho."
Unfortunately for Edmonds, some fans tried to rain on her parade by leaving her mean messages in the post's comments section.
"Ugh. Give me a break. Breakfast in bed... spa... yoga... and swim day... and the days not even over yet??? Are you kidding me????" someone wrote. "Most pregnant women are working a mindless 9 to 5 job for barely any pay... and going home to feed their other kids without an assistant and nanny. Pleazzze."
Another fan took the opportunity to slam Edmonds' body, writing: "You look like a starving Ethiopian...so skinny and a belly and of course the fake boobs."
"I'm bigger than her and she has twins in her body," someone else chimed in. And one particularly annoyed fan is just "tired" of seeing Edmonds pregnant:
I think you look amazing but it's like dude we get it.. You are pregnant!!! Its not like u are the first in history to have a baby.. Or twins. I know it's exciting for you but I get tired of seeing the bikini and yoga posts or the pushing out of the belly.
Although there's a lot to dissect in these comments, a few major points stand out to me. For starters, it's never OK to critique another person's body or to shame them for how they look. Edmonds didn't ask fans for their opinions about her body, nor does she deserve criticism because she bared her bump on social media. And it goes without saying that Edmonds can post a billion snaps of her bump if that's what she chooses to do.
Secondly, while Edmonds clearly lives a life of privilege (her wealth was well-documented on RHOC), it doesn't mean she can't enjoy a vacation or a trip to celebrate her pregnancy. Every person deserves the right to enjoy their pregnancy however they see fit, and if Edmonds is lucky enough to afford a luxurious babymoon, then that's awesome.
And lastly, Edmonds went through a lot to conceive her boys and Aspen. After years of IVF and losing one baby during the initial process, I think it's safe to say that Edmonds deserves to pamper herself and relax before the twins' delivery. One has to wonder why people are so upset by seeing a parent practice self-care.
The good news is that most of Edmonds' fans agree with my sentiments. "You deserve it," one fan said of Edmonds' vacation pic.
"Oh my- she is glowing and beautiful and thankful- and has been through a lot. Don't be a hater. Just don't be a follower," another person pointed out.
Sadly, I don't think the Edmonds' haters will go away anytime soon. Luckily for Edmonds, however, she has a strong support system and many adoring fans to see her through the negative comments.
Check out Romper's new video series, Bearing The Motherload, where disagreeing parents from different sides of an issue sit down with a mediator and talk about how to support (and not judge) each other's parenting perspectives. New episodes air Mondays on Facebook.