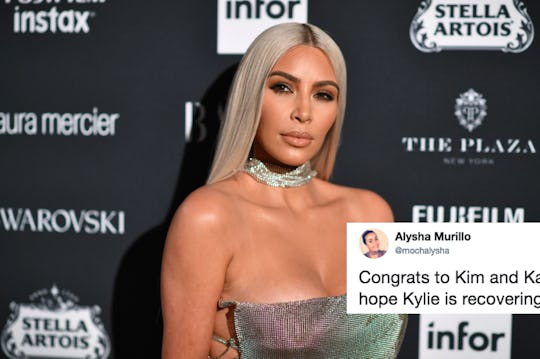 Dimitrios Kambouris/Getty Images Entertainment/Getty Images
Fans Are Still Convinced Kylie Jenner Gave Birth To Kim Kardashian's Baby
At any other time, the announcement would be reason for celebration only: Kim Kardashian and Kanye West announced Tuesday that they'd welcomed their third baby, a little girl, via surrogate. It's definitely happy news, but it comes just days after rumors swirled that Kardashian's younger sister, Kylie Jenner, was in labor. Could the timing be any more suspicious? The correct answer to that is absolutely not, and so, of course, Kardashian-Jenner conspiracy theorists/fans are convinced that Jenner gave birth to Kardashian's baby.
West and Kardashian announced the birth of their youngest daughter via Kardashian's app on Tuesday morning, according to E! News. "Kanye and I are happy to announce the arrival of our healthy, beautiful baby girl," Kardashian wrote, according to E! News. Kardashian shared that their daughter was born on Monday, just after noon, and continued:
We are incredibly grateful to our surrogate who made our dreams come true with the greatest gift one could give and to our wonderful doctors and nurses for their special care. North and Saint are especially thrilled to welcome their baby sister.
Fans who have long held onto the theory that Jenner — who has yet to confirm her rumored pregnancy — was Kardashian's surrogate went into overdrive. After all, wasn't Jenner rumored to be in labor on Friday?
Reports that Jenner was in labor on Friday were ultimately shut down by several outlets. But die-hard conspiracy theorists aren't letting that stop them, of course. In fact, fans have been pulling together several different clues that Jenner was Kardashian's surrogate, and some might find it an appealing theory. (Who, me? Um, yes, definitely me.)
First of all, in one episode of Keeping Up with the Kardashians, Jenner sent everyone in the family pink donuts. Everyone except for Kardashian, that is. Fans were quick to speculate that the donuts were a gender reveal, and that Kardashian wasn't included since she already knew (after all, it was her baby, so she'd clearly be in the loop, right?).
Not only that, but Kardashian has been very, very vague about her and West's surrogate: Kardashian's surrogate wasn't even invited to her baby shower back in November. "Of course, I would've wanted her to be there and be a part of it, but I hadn't really gone that far in explaining it to my kids yet," Kardashian said on The Real at the time, according to E! News. (Or was it that Kardashian wanted to keep the fact that Jenner was her surrogate under wraps? Hmm?)
Of course, there are plenty of factors working against this entire "Jenner was Kardashian's surrogate" theory. First of all, Jenner has yet to even confirm her pregnancy. Second, neither Kardashian nor Jenner has hinted that the theory was even a possibility, which means this is all guesswork. And finally, it's just not all that likely, since surrogates generally tend to be women who have already given birth at least once.
That general rule is in place for several reasons, according to surrogacy agency Simple Surrogates. Women who haven't given birth before have no proof of fertility, which could complicate the surrogacy process. Surrogacy can also carry medical risks that might affect a woman's future fertility, and women acting as surrogates during their first pregnancy might be unprepared for the strong emotional bond they might feel to the baby.
Until we hear a confirmation or denial of the rumors from either Kardashian or Jenner, it's really all just a guessing game. But thanks to the many fantastic tweets out there from conspiracy theorists, it's definitely an entertaining guessing game. Either way, congratulations to Kardashian and West (and maybe Jenner, too?) on the happy news!
Check out Romper's new video series, Romper's Doula Diaries:
Watch full episodes of Romper's Doula Diaries on Facebook Watch.