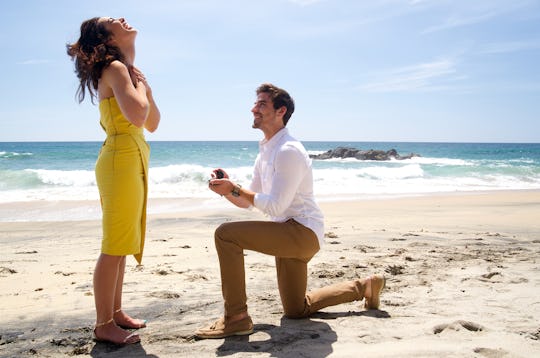 Paul Hebert/ABC
Ashley I. & Jared's Proposal Was A Big Hit With 'Bachelor In Paradise' Fans
One of the most anticipated moments on this season of Bachelor in Paradise was the return of some alums who successfully found love on the show...and Ashley I. and Jared. They've had a tumultuous history in Paradise — Ashley's even been engaged to another contestant before — but she and Jared did technically meet in Paradise and they returned to the beach to get engaged, which makes them a success story. Fans obsessed over Ashley I. and Jared's romantic Bachelor in Paradise proposal, despite their checkered past.
They first arrived on the beach under the guise of surprising the remaining couples with a little friendly competition. Chris Harrison revealed that they were in possession of a date card which the couples would have to make their case for in order to receive it. But as Jared and Ashley took their positions down the beach to start the fun, Chris whispered to the gang that a secret plot was afoot, encouraging them to gather round a nice vantage point. Jared walked his lady down the shore where they first met two years ago and started to reminisce about their long and challenging relationship, eventually revealing that he wanted to spend the rest of his life with her.
Said Jared:
"Three years ago we met right at this spot. I don't ever want another day to go by that I don't kiss you and tell you how beautiful you are and how much you mean to me. You'd make me the happiest man alive if I had the opportunity to spend the rest of my life with you."
He got down on one knee with a gorgeous Neil Lane ring and, yes, Ashley promptly burst into her signature tears — this time, happy ones. And fans were happy for her.
But of course, not everyone on the beach was celebrating. Her ex-boyfriend, Kevin, whom she dated on The Bachelor: Winter Games earlier this year, is on Bachelor in Paradise this season and happily dating Astrid. And watching his ex receive a proposal before his eyes was not exactly easy for him, especially because they didn't break up on the best of terms. Ashley and Kevin dated while she and Jared were in one of their off-again phases, and she essentially dumped Kevin to get back together with Jared once he was ready to pursue things again.
Kevin has expressed on the show that he still feels lingering insecurities over his failed relationship with Ashley, low-key implying that she used him for Instagram capital and flat out admitting that he felt like a "pawn in her scheme." It's led him to feel uncertain in his connection with Astrid (which, to his credit, he's always been straightforward with her about), and witnessing Ashley's engagement to the guy she cheated on him with stirred up some intense feelings. But Kevin and Astrid got a date card later that night and managed to solidify their relationship by exchanging "I love you"s. In the end, it seems like everyone closed out the day in peace.