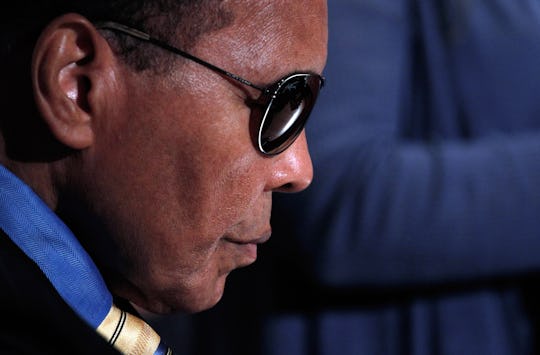 Win McNamee/Getty Images News/Getty Images
Fans React To Muhammad Ali's Death, Proving He Really Was "The Greatest"
Sports fans — and the world as a whole — was shocked to learn that boxing legend Muhammad Ali died late Friday evening. As news of his death spread through social media, the fans reacted to Muhammad Ali's death in a way that proved he really was "The Greatest."
After being admitted to a Phoenix-area hospital for respiratory issues on June 2, NBC News reported that Ali died on June 4. "After a 32-year battle with Parkinson's disease, Muhammad Ali has passed away at the age of 74," Bob Gunnell, a family spokesman, told NBC News. "The three-time World Heavyweight Champion boxer died this evening."
Given the boxer's battle with Parkinson's boxer suffered from Parkinson's disease, a chronic and progressive movement disorder, many were quick to assume that was what he died from. But, as the Michael J. Fox Foundation for Parkinson's Research noted on it's site, a person can't die from Parkinson's. They can, however die from symptoms that worsen as the disease progresses. That being said, the family has yet to release the cause of Ali's respiratory issues, which may not be a result of his Parkinson's disease.
Born Cassius Marcellus Clay Jr., Ali got involved with boxing at the age of 12 after his bike was stolen and he told a police officer (who happened to be a boxing instructor) he wanted to "beat the thief." According to Biography.com, Ali began training with the police officer and went on to win his first bout that same year. Less than a decade later, in 1963, he became a household name after defeating then-Heavyweight champion Sonny Liston in a six-round fight. Throughout his career, Ali battled other high profile fighters, including Ernie Terrell, Floyd Patterson, and George Foreman.
But his life outside the ring also earned him some recognition. Despite being involved in a somewhat violent sport, Ali refused to serve in the American armed forces during the Vietnam War saying, "my conscience won't let me go shoot my brother, or some darker people, or some poor hungry people in the mud for big powerful America." His refusal to serve led to him being banned from boxing from 1967 to 1970.
Ali continued to fight for 11 years, and retired after beating Trevor Berbick in a 10-round fight on December 11, 1981. It was that year that the boxer began to show signs of Parkinson's disease, and Ali was officially diagnosed with Parkinson's disease in 1984. As The Guardian reported, many believe the development of Ali's Parkinson was due to suffering multiple blows to the head throughout his career.
But, always the fighter, Ali didn't just accept his condition. In 1997, he established the Muhammad Ali Parkinson Center, which offers treatment, therapies, and outreach programs to those suffering from the disease. In addition to raising awareness for Parkinson's disease, Ali was also an advocate for the black and Islam communities.
To say Ali has left behind a legacy would be an understatement. His work in and out of the ring allowed him to impact people form all walks of life, and the impact he had on the world will never be forgotten.
Rest in peace Muhammad Ali. You were truly The Greatest in more ways than one.