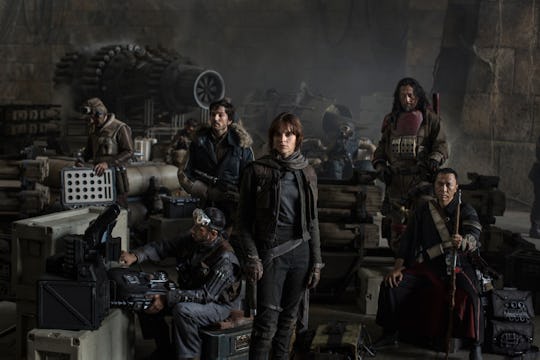 Jonathan Olley/Lucasfilm
Fans Reactions To The 'Rogue One' Trailer Show "I Rebel" Is About To Be An Anthem
Listen carefully. That familiar, high-drama music you hear coming out of everyone's computers this morning is the Star Wars theme music because the trailer for the franchise's upcoming spin off just dropped this morning. And fan reactions to the Rogue One: A Star Wars Story trailer have that mix of psychotic enthusiasm we've come to expect from its legions of followers. Like Stormtroopers loading onto a Star Destroyer, you can bet Star Wars fans all over the world will line up to see this new movie, which is the first of many planned spin offs from the original, in which stories take place in the same world but feature new characters and story lines. The new movies expand the Star Wars universe for rabid fans, and it sounds like a fairly risky prospect to try and build upon such a beloved brand. But, if this trailer is any indication of what fans can expect from new Star Wars projects moving forward, the gamble is going to pay off big time, because Rogue One looks amazing.
Rogue One stars Felicity Jones as Jyn Erso, in yet another bad*ss feminist nod for the franchise, who is tasked by the Rebels to set out on a mission to steal plans for the latest deadly weapon from the Empire, the Death Star, so it can be destroyed. You might recognize Jones from her high-profile and critically-acclaimed role in The Theory of Everything. Rogue One also features Forest Whitaker as some sort of battle-hardened guru/mentor for Erso.
The real question on everyone's mind is what the Dark Side Jedi himself, Darth Vader, thought of the trailer. Luckily for everyone associated with the series, it looks like he likey.
People are also loving the whole, "I rebel" line.
It was hard not to miss the feminist overtones carried over from The Force Awakens into Rogue One. Which, of course means there will be those bros who will be predictably pissed to see another chick lead. Fans are already bracing for the backlash.
Everyone also agrees Ben Mendelsohn's cape is the real star of the trailer.
Fans are also pretty stoked for the return of Mon Mothma character.
It's safe to say fans are pretty pumped about Rogue One.
Rogue One was directed by Gareth Edwards, a British director who previously did beloved movies including Monsters and the Godzilla reboot. All right, so I'll see everyone at the cape store this weekend so we can make plans to see Rogue One in December?