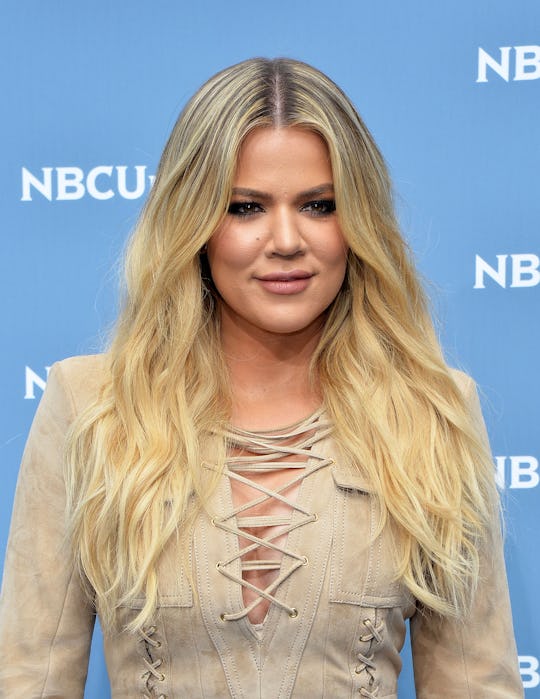 Slaven Vlasic/Getty Images Entertainment/Getty Images
Fans Think Khloe Kardashian Dropped A *Huge* Pregnancy Clue In A Halloween Snapchat Video
Ever since unnamed sources shared that several members of the KarJenner family are reportedly expecting, fans have been scanning social media for proof of coming babies. Fan theories and speculation have run wild. Most recently, the internet is convinced that Khloe Kardashian dropped the biggest pregnancy clue yet on her Snapchat Monday night, where she called boyfriend Tristan Thompson "Daddy." But she also shared a blurry video that fans claim shows a "bump." Once again, the "evidence" is pretty thin, but that hasn't stopped Kardashian's fans from latching onto it in the past.
The snaps were taken at a Halloween event where the Kardashian and Thompson were dressed in some seriously impressive Game of Thrones costumes. Kardashian was everyone's favorite Queen of Dragons, blonde wig and all, while Thompson showed up as a very convincing Khal Drogo. Ok! Magazine reported that the couple won the party's costume contest, but fans were more interested in her comments and what was under Kardashian's costume than Khaleesi herself. Of course, all of these theories are only that: theories. Kardashian herself yet to confirm rumors of a pregnancy, and Kardashian's representative has not responded to Romper's request for comment regarding the rumor.
There are a couple of reasons that fans think Kardashian is adding fuel to the fire of rumors with these snaps. The first is her choice in nicknames for Thompson. On a video of a slow pan up Thompson's body that showed off his costume, Kardashian used the caption, "That's daddy." Her calling him by that name was enough to set off an avalanche of reactions. Of course, this isn't the first time that Kardashian has raised eyebrows by referring to Thompson as "Daddy."
In June, Kardashian posted a cryptic photo to Instagram that featured three polariod photos of her and Thompson, along with the words "Dad + Mom" and the date, "6.25.17," which was her 33rd birthday. At the time, fans thought little of the post. But in the days following Kardashian's pregnancy rumors, fans wondered if those photos were actually how she told Thompson that she was pregnant, or perhaps they were even her first announcement of the pregnancy on social media.
Shortly after, TMZ reported that this was in no way evidence of the couple expecting a baby. Rather, the outlet reported that "Mom" and "Dad" were simply Kardashian and Thompson's pet names for one another (which seems really weird). However, a source allegedly told TMZ that the photos later became a source of irony because the two were unaware that Kardashian was pregnant at the time. It is unclear whether Kardashian was using a pet name once again on Monday, or if the comment was a little more loaded than that. What is clear is that Kardashian called Thompson "Daddy" in the face of months of pregnancy rumors.
Kardashian's preference of pet names isn't the only part of her Snapchats on Monday that have fans in a baby fever tizzy. Judging by the comments on the fan-run Instagram page dedicated to Kardashian's Snapchat posts, a number of people have also claimed to be able to see a "bump" in one of the videos. One such user wrote, "Pretty sure I saw a bump," while another just exclaimed "Bump!"
Not everyone is on board, though. People who commented on the BuzzFeed article about Kardashian's most recent Snaps don't seem to be too convinced that they serve as evidence of a pregnancy. Specifically, the commenters pointed out that Kardashian may just be showing her man some love with the nickname. One such user pointed out that the name could be innocent:
I call Jason Momoa daddy all. the. time. I am not carrying his child. This is the world we live in.
Another provided a helpful explanation of the nickname:
Daddy as in Zaddy. Not daddy as in im the baby daddy and will end up divorcing you later on, make a show about it, and yada yada.
Commenters also pointed out that it is really hard to see much of anything in the blurry video, much less a defined "bump." In the words of one user:
I squinted really hard to look for her baby bump but all I saw was a composit sketch of Tony Danza. Maybe I'm not squinting hard enough. Lemmie get my glasses.
The collective "bump" evidence of Kardashian's pregnancy and the other so called "proof" of her pregnancy is far from a confirmation. Until she goes on the record to clarify the issue, all of this so-called proof is simply speculation.
Watch Romper's new video series, Romper's Doula Diaries:
Check out the entire Romper's Doula Diaries series and other videos on Facebook and the Bustle app across Apple TV, Roku, and Amazon Fire TV.