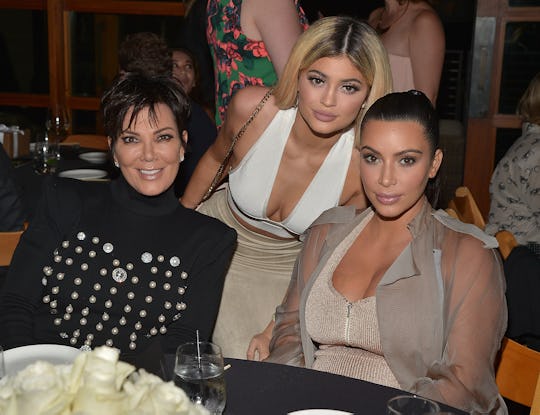 Charley Gallay/Getty Images Entertainment/Getty Images
Fans Think This Snapchat Of Flowers That Kylie Sent To Kim Is A Huge Pregnancy Clue
No matter how many details the Kardashian-Jenner family shares about their lives with the public, some fans are always convinced that the family is holding back some juicy intel, and they're determined to get to the bottom of it. The latest theory is that Kim's flower Snapchat from Kylie is a pregnancy clue, rather than just a congratulations bouquet for the sister who has actually confirmed that she has a new daughter. Say what?
"How beautiful are these flowers? Thank you, Kylie!" Kardashian said in a video posted to both Snapchat and Instagram Stories on Wednesday. The heart-shaped arrangement featured tightly clustered pale pink roses. The logical explanation would be that Jenner sent her sister the flowers in honor of the birth of her third child, a girl, who was delivered via surrogate on Monday. But some people are apparently taking huge leaps in logic and claiming that it really means that Kylie is also having a daughter. So, were they really a girl-mom solidarity gift? Did Kim actually buy them for Kylie, but just go super confused when she shared the footage of them? And why would she even bother showing them off to the public if they're truly such a damning piece of evidence? Who knows.
People will use any excuse to claim that the 20-year-old lip gloss peddler is secretly expecting, and have been ever since TMZ first published the original claim about her rumored pregnancy in late September. Granted, some of the clues are pretty suspicious; she hasn't been seen out in public in months, and the only photos of her are either closeups of her face, throwback photos from a year ago, or poses in which her stomach is obscured by baggy clothing.
She wasn't even in the family's infamous annual Christmas card. She and her family members have also refused to address the rumor, just as they did with sister Khloé's now-confirmed pregnancy. If it's not true, fans reason, why not just deny it? But as long as we're discussing what may or may not be housed within the reality star's uterus, she's still in the news, which in that line of work is never a bad thing. Jenner even seems to enjoy toying with her followers on social media, constantly posting pale pink and baby blue items, mixed in with pastries (because "bun in the oven," and also, pregnant women be eating, y'all).
Her pink purses, fingernails, jewelry, and furniture are sure signs that she's having a girl, according to E! Online (unless BuzzFeed is right, and her blue phone case and oversized shirts mean that she's having a boy). But why send her sister flowers if she's the pregnant one?
Kardashian revealed on Instagram earlier this month, "Blush flowers are my thing." So was the bouquet a dig at the elder sister? Was she being put on notice that her time in the limelight as both the mother of daughters and the lover of feminine-hued flora is almost at an end?
That would align with People's claim that Jenner threw herself a baby shower just one day after Kardashian did the same back in November, and it could explain why Jenner send boxes of pink donuts to every one of her sisters except Kim (Hello Giggles reported that the current theory is that Jenner was actually Kardashian's surrogate, and the donuts were only for aunties, not mothers, which makes even less sense, honestly).
Further "proof" of Jenner's pregnancy is Hollywood Life's claim that her boyfriend, Travis Scott, purchased a crib back in October, and some truly intrusive helicopter footage by X17 Online that purports to show workers assembling another crib in Jenner's driveway on Wednesday (although it doesn't look like any crib I've ever seen). At any rate, if Jenner truly does have a baby up in there, she can't hold it in past this spring at the latest, so we only have a few more months of wild speculation ahead of us.
Check out Romper's new video series, Romper's Doula Diaries:
Watch full episodes of Romper's Doula Diaries on Facebook Watch.