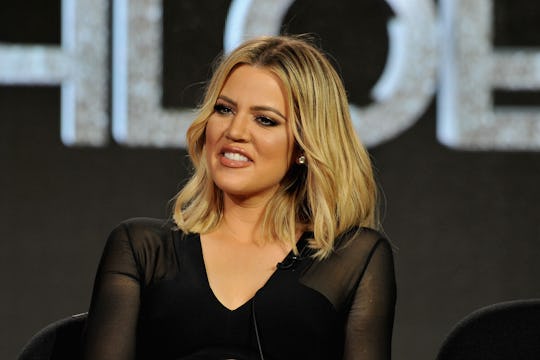 Jerod Harris/Getty Images Entertainment/Getty Images
Fans Think This Tiny Detail In Khloé's Instagram Post Means She's Having A Boy
Anyone who keeps up with the Kardashians at all is probably aware that Khloé Kardashian recently officially confirmed that she's pregnant. And fans think one little detail in her Instagram post from Thursday hints that Khloe is having a boy. It could just be a coincidence, or it could be just the sort of clue Khloé meant to include to make fan speculation run wild.
For months, Khloé would not confirm that she is pregnant with her first child with boyfriend Tristan Thompson. She and the rest of the Kardashian/Jenner family worked hard to keep the whole thing under wraps. Fans were aware that her sister, Kim Kardashian West, was expecting her third child with the help of a surrogate, but rumors raged over whether Khloé was pregnant. Not to mention, no one is 100 percent sure what's going on with their sister Kylie.
But on Dec. 20, Khloé finally announced that she is pregnant by confirming the news on her Instagram account, according to USA Today. Since then, she hasn't been shy about sharing "bump" photos on the social media platform, which is quite the turnaround from the months of carefully posed photos or throwback shots she would share that seemed like they were meant to quell rumors of her pregnancy.
Well, on Thursday, Khloé shared a photo advertising both her appearance on Jimmy Kimmel Live! that night and Season 2 of her E! network show, Revenge Body With Khloe Kardashian. The photo was captioned like this, according to her Instagram account:
💙Press day💙Tune into Jimmy Kimmel tonight!!!! Season two of revenge body premieres THIS Sunday on E!!! Hrush and Andrew are really serving!! The leeeewks! 💙
Did you notice what emoji she used for the post? Because Khloé's fans certainly did.
Khloé is clearly cradling her pregnant belly in the photo, and wearing a dark blue ensemble that contrasted with her bright red lipstick. And she used blue emoji hearts in the caption. Blue — as in boy? That's what fans are thinking, anyway.
It only takes one look at the comments on Khloé's Instagram post to see what fans thought of her use of emoji in the caption of the photo. A lot of the comments just congratulated her on the pregnancy, but others specifically used the blue heart emoji in their replies. Others noted Khloé's use of blue hearts and said things like, "😀💙💙💙💙 its A Boy !!!!," "Yesss honey you are definitely haveing a boy you are glowing i see it," and "Blue hearts for a boy 💙."
But there were plenty of other comments from fans who seem convinced that Khloé is actually having a girl. Those replies ranged from "That's a baby girl in there!" to "I think it's girl," but they definitely didn't seem as numerous as the "it's a boy" comments.
It's unclear whether Khloé included the blue hearts as a hint to fans, or just as a coincidence. It could also be that she was trying to match the emoji in the post to the dress she was wearing in the photo. But fans seem to think the tiny detail means something.
The truth is, it kind of seems like Khloé is actively trying to get fans to think she's expecting a baby boy with Thompson. When she appeared on The Ellen DeGeneres Show on Thursday, she told DeGeneres the boy names she has in mind for the baby, but not names for a girl. Khloé said, according to People:
I think if it's a boy I'll go with Junior — Tristan Jr...Then for a girl, I don't know where to begin.
But Khloé also recently said that she won't confirm the sex of the baby until the reveal on Keeping Up With The Kardashians, People reported. But that doesn't mean she can't drop hints beforehand, and many fans think that's what she did with the blue hearts in her recent Instagram post.
In any event, whether Khloé meant anything at all by including blue hearts in an Instagram caption, we will know the truth about her baby's sex soon enough. Fans are just going to have to be patient a little while longer.
Check out Romper's new video series, Romper's Doula Diaries:
Watch full episodes of Romper's Doula Diaries on Facebook Watch.