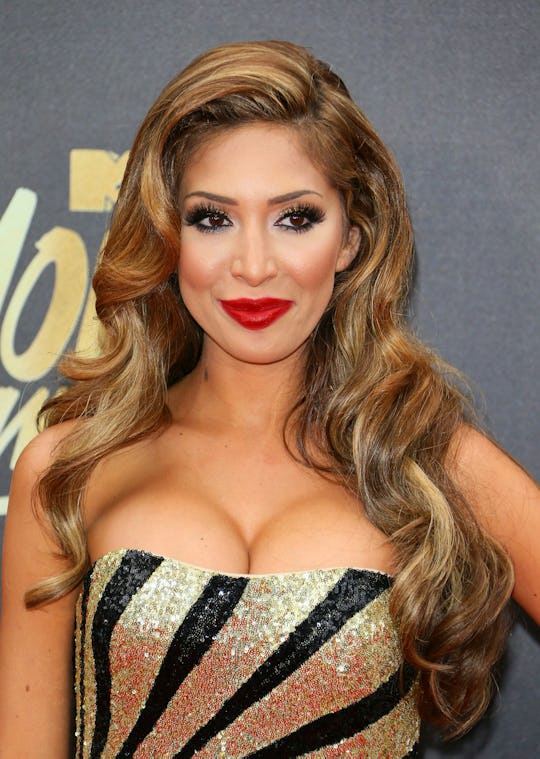 JEAN BAPTISTE LACROIX/AFP/Getty Images
Farrah Abraham Posted Photos Of Her Daughter In A Bikini, & The Internet Is Not Happy
Former MTV Teen Mom Farrah Abraham is no stranger to controversy — the often-criticized reality star has made two adult films capitalizing on her public persona — but recent photos she posted of her 7-year-old daughter Sophia have many of her followers up in arms. Farrah Abraham posted photos of Sophia in a bikini on Instagram according to Us Weekly, but critics say the photos are much too grown up and suggestive. From the looks of Abraham's social media accounts, Sophia (whom the world first met as a baby on Teen Mom and its predecessor, 16 and Pregnant), has started to pursue modeling with her famous mom's help. But while Abraham seems full of pride over her daughter's photos, the fact that Sophia is being photographed in a two-piece bathing suit, and looking pretty grown up in a full face of makeup, has some fans worried about how those photos might be viewed by online predators.
Since appearing on reality TV, Abraham has received what sometimes seems like a non-stop onslaught of criticism — over the way she parents, over her relationship with her parents, over her decision to have plastic surgery, and most definitely about her foray into porn. The latest photos of Sophia aren't even the only time she's been accused of being an irresponsible caregiver: Abraham came under fire when Sophia was 3, after she admitted to trying to wax the little girl's eyebrows, according to The Sun.
In an interview with Good Morning America, Abraham said, "people just kept commenting on a unibrow. And I was like, maybe I am letting it go too far." Sophia "freaked out" though when Abraham tried to apply the wax, so instead she opted to pluck the stray hairs.
Regardless of your opinion on Abraham and her choices, it's pretty clear that it can't be very easy to be a reality star who became known only because she got pregnant at 16. Although she has more than 632,000 followers on Instagram alone, and still makes headlines around the world despite not being on the show anymore, Abraham's followers are also more than happy to dole out plenty of criticism when they think she's made a misstep. Comments on Sophia's bikini photo range from concerned ("It's nice you're getting her into modelling, but in this pic she looks too old for her age. Kind of creepy.") to outraged ("SOMEONE TAKE HER KID AWAY WTF"), to downright cruel comments not just targeting Abraham, but the little girl herself.
But although the criticism piled on Abraham at every turn can definitely seem harsh, there's no doubt she makes a lot of questionable choices. And even though she has the right to do whatever she wants on social media (it's her life, after all), it's hard not to judge when those choices involve a young child. Regardless, though, children or child models should not be blamed for people's inappropriate comments or thoughts. Telling someone's child that what they're wearing could invite predators only continues a dangerous culture of victim blaming and slut shaming.
If the backlash bothers Abraham, however, she definitely doesn't appear to be showing it. In fact, she's even started managing an Instagram account for Sophia herself, posting photos and video clips of the young girl to support her modeling efforts. And on her own page, Abraham captioned the latest photo of Sophia with the message,
God gave me an extraordinary young lady @sophialabraham I'm so blessed - excited to see all the great things flourish in Sophia's life journey #blessed #beauty #photography
Well, you can't say she isn't a proud mama. Hopefully Sophia is just as happy about her experience as a model and social media starlet as her mom is.