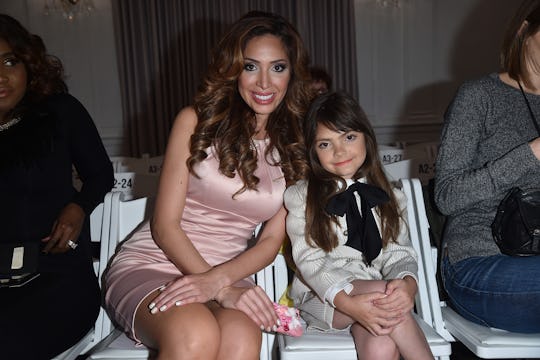 Jacopo Raule/Getty Images Entertainment/Getty Images
Farrah Abraham Posts An Instagram Video Of Her Daughter On A Boat, & Is Again Attacked
Farrah Abraham, reality star turned actress, is not one to shy away from controversy. The 25 year old is considered by many to be one of the most "outrageous" women in MTV's Teen Mom franchise, but sometimes her critics go too far. On Thursday, Farrah Abraham posted an Instagram video of her daughter on a boat and her critics attacked her. The video, which shows 7-year-old Sophia dancing with a life jacket on as the boat speeds along a lake, is not inherently dramatic. But many commenters criticized the mom for putting an adult-sized life vest on her daughter.
"Someone should seriously take your child from you," one commenter wrote. Others criticized Farrah for allowing her daughter to dance provocatively to Fifth Harmony's "Worth It."
"I understand everyone is concerned about the life jacket but I'm more in shock and disappointed over the fact that such a young, sweet child would know how to dance so seductively. If she is doing this already at this age... What will she being doing at 16?" asked one commenter. And honestly, it's one thing to slam a mother for putting her daughter's life in danger. It's quite another to criticize her first-grader's dancing abilities. While it's true that Sophia's life jacket is big on her, at least she is wearing one.
This isn't the only time a Teen Mom star was criticized for disregarding water safety. Abraham's co-star, Amber Portwood, recently posted a photo of her daughter posing on a boat without lifejacket on. Portwood was similarly slammed on social media for the oversight:
Abraham's social media posts regularly attract a wave of critics. Just a week ago, the reality star posted a photo of her daughter wearing full makeup in a bathing suit, and celebrated the start of her modeling career. Several fans felt that by pushing Sophia into a modeling, Abraham was taking away her childhood.
Abraham's also been slammed for admitting to having waxed and plucked Sophia's eyebrows. "People just kept commenting on a unibrow," she explained on Good Morning America. "And I was like, Maybe I am letting it go too far."
While Abraham's parenting record is certainly not the cleanest, it's hard to argue that the lake post on Instagram is worth igniting a fire over. No parent is perfect, and at least Abraham had the good sense to put a lifejacket on Sophia. At the end of the day, Abraham is doing what's best for her daughter. When all is said and done, that's all that matters.