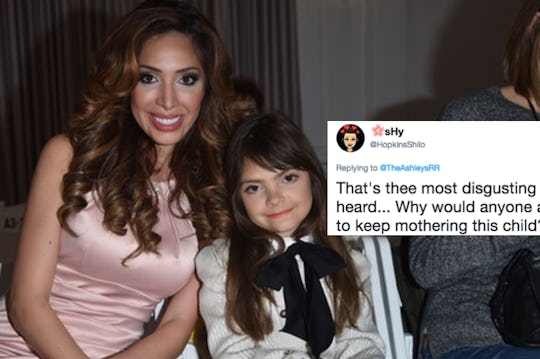 Jacopo Raule/Getty Images Entertainment/Getty Images
Farrah Abraham Reveals She & Her Kid Have Nudes Of Each Other & People Are Horrified
Teen Mom OG star Farrah Abraham is no stranger to controversy and it looks like she's found herself in the midst of it again following a recent interview with TMZ. When prompted by a photographer over the weekend, Abraham revealed she and her daughter have naked pictures of each other on their phones and a lot of people don't really know what to make of this admission. Abraham did not immediately respond to Romper's request for comment.
Abraham's recent comments to TMZ have indeed raised some eyebrows. On Friday, photographers talked with Abraham outside of a club and she spoke with them about her sex tape and said that "every celebrity has one." The subject quickly turned to Kim Kardashian and the photographer then asked Abraham what she thought of Kardashian's 4-year-old daughter, North, taking a topless mirror pic of Kardashian, which stirred up its own respective backlash. Abraham, who has a 9-year-old daughter named Sophia, certainly knows what it's like to be a mom in the spotlight like Kardashian. However, Abraham's response to this question was problematic to many.
"I mean my daughter and I, we just run around our house naked and live life free," Abraham told TMZ on Friday. "I mean, we have naked pictures on our phones of each other because we're like a mom and daughter crew. I mean, my mother has pictures of me being a baby running all over the yard naked."
Unsurprisingly, many people were shocked with her response. "What the F is wrong with you lady?" one commenter asked on TMZ's Facebook post of the story. "That kid is doomed." "Who has naked pics of their kids or like she stated of each other!!" another commenter wrote. "She is crazy!!"
Those sentiments were echoed in the comment section of TMZ's article. "Pure word vomit... just dropped yaself in it," one commenter wrote. "Wait a second, did she just say that she has naked pictures of her child on her phone?" another commenter asked. "Wow she is truly the dumbest person on earth."
Many on Twitter also voiced similar concerns.
Abraham may have tripped over her words when talking to this photographer, but considering Sophia's age, Abraham's nonchalant attitude about having naked photos of each other on their phones does raise questions and clearly isn't sitting well with some people, including Abraham's mom, Debra Danielsen. Danielsen denied to The Ashley's Reality Roundup that she had any photos of Abraham running around their yard without a shirt on as a child, according to The Inquistr. Danielsen told the outlet:
I have no photos of Farrah naked ever. Especially outside in our yard! Our neighborhood would never be a place for that especially when she was small. The only place we were naked was in the bathroom — which is normal when you are having a shower or beauty treatments.
If you've seen an episode of Teen Mom OG, then you know of Abraham, who was introduced to 16 & Pregnant audience members in 2009 when she appeared on the show as a cheerleader from Nebraska, pregnant with her daughter Sophia. But in the time since then, Abraham has entered the adult entertainment industry and was recently fired from Teen Mom OG. Last week, Abraham filed a lawsuit against Viacom and Teen Mom producers alleging that she was fired due to her work in the adult entertainment industry, according to E! News.
"I am here to make a change for the LGBT and female community at large, and I'm proud to stay true to my identity as a business entrepreneur, reality star, and single mother," Abraham told E! News in a statement. "I am a businesswoman a female celebrity leader who will not be shamed or discriminated against by Viacom, MTV, my peers as its illegal for me to do the same to them."
Regardless of the choices that Abraham has made in her personal or professional life, it is understandable that many people have been alarmed and concerned by this latest revelation.
Check out Romper's new video series, Bearing The Motherload, where disagreeing parents from different sides of an issue sit down with a mediator and talk about how to support (and not judge) each other's parenting perspectives. New episodes air Mondays on Facebook.