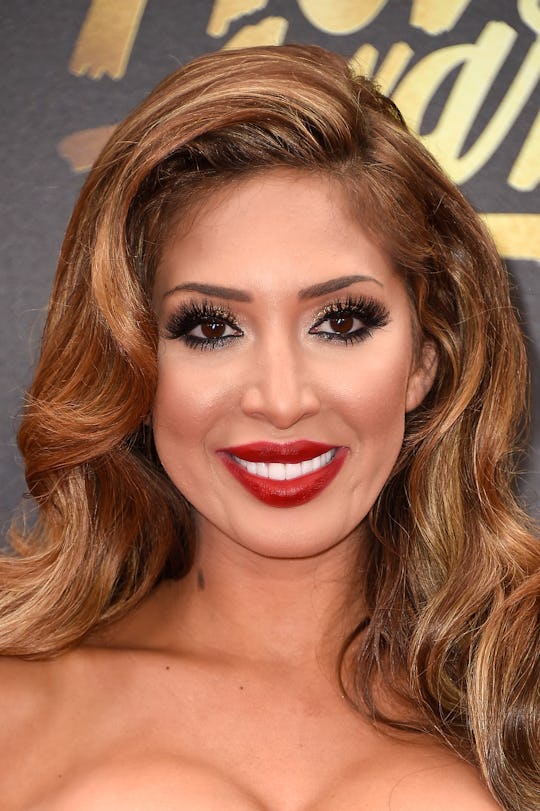 Frazer Harrison/Getty Images Entertainment/Getty Images
Farrah Abraham Speaks Out About Valerie Fairman
According to People, former 16 and Pregnant star Valerie Fairman died on Wednesday at age 23, after being found unresponsive in a friend's bathroom. The news triggered an outpouring of condolences from fans and friends, and on Friday, a Teen Mom OG star joined them. Fellow 16 and Pregnant alum Farrah Abraham said she was "deeply saddened" by Fairman's death. On Instagram, Abraham posted a screenshot of a Daily Mail article about Fairman, writing:
I feel so heartfelt with sadness of the struggles Valerie was going through I deeply am saddened by this tragedy and I wish that others around Valerie could have helped her and I pray nothing but protection , love and peace to her daughter through this very confusing holiday time. Only 23 we lost a very beautiful young mom with the world ahead of her. Surround yourself with other who will truly care and be a great influence be careful.
Before Fairman died, she reportedly battled addiction, and her death on Wednesday was attributed to an overdose, according to Us Weekly. Abraham didn't known Fairman personally, but she said that Fairman's substance issues reminded her of her ex-boyfriend's. The father of Abraham's daughter, 7-year-old Sophia, was killed in a drunk driving incident just before Sophia was born.
Abraham told Us Weekly:
It really hurts me. Just like Sophia's dad, who was just surrounded by people, even though you're using drugs. It's such a experimental time from our teens to our 20s. I'm not judging anyone who is recreational [with their drug use] because we all may do that, just some people don't live through it. Some people don't have the right surroundings to help get them through an experimental time or a tough time. I didn't really speak to [Fairman], but all I know is it really hurt me because you know I thought to myself, 'What if Sophia never had me?'
That's a thought that most mothers can relate to. Other former 16 and Pregnant stars, including Chelsea DeBoer and Jenelle Evans, expressed their condolences on social media, with many focusing on Abraham's daughter, 7-year-old Nevaeh Lynn.
When asked by TMZ, Abraham also spoke of the part 16 and Pregnant and fame may have played in Fairman's death. "I think that played a part," she said, saying that the show had become less positive than it had been when she first starred in it. "From jail to drug addiction to whatever else that was said, I really wish she was supported in a better way."
Going forward, Abraham said she hoped Nevaeh is surrounded by people who will help her grieve and will support her following her mother's death — a sentiment clearly shared by both fans and friends around the world.