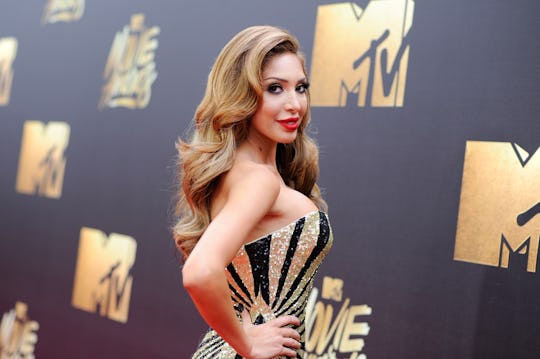 Emma McIntyre/Getty Images Entertainment/Getty Images
Farrah Abraham's Bollywood Outfit Had Twitter Talking
On Sunday evening, Teen Mom OG star Farrah Abraham decided to switch up her look a little for the 2017 MTV Movie and TV Awards, trading in her usual look for a Bollywood-inspired outfit. "I think this will inspire others to embrace new cultures and have good experiences," Abraham told TooFab, saying she wanted to bring "culture to the red carpet." However, tweets about Farrah Abraham's Bollywood outfit proved that the internet had far more mixed opinions about the look.
Abraham wore a gold, glittering cropped top along with a long pink skirt, a scarf, and plenty of jewelry. She also had a henna choker drawn on her neck, wore a bindi, and sported heavy eyeliner. According to TooFab, she said that the outfit made her feel "freaking amazing, Bollywood and sexy!"
While some seemed to enjoy the ensemble online, quite a few Twitter users were quick to call Abraham out for cultural appropriation. In 2013, Selena Gomez faced the same backlash when she wore a Bollywood-inspired outfit and bindi for her "Come and Get It" performance at the MTV Movie Awards.
"The bindi on the forehead is an ancient tradition in Hinduism and has religious significance," Rajan Zed, leader of the Universal Society of Hinduism, said in a statement after Gomez' performance, according to Jezebel. "It is not meant to be thrown around loosely for seductive effects or as a fashion accessory."
Judging by the internet's response to her red carpet look, not too many people were fans of Farrah's Bollywood-inspired outfit, either.
A few other commenters were less concerned about her outfit, with one Twitter user calling it "bold and sparkly."
According to Broadly, other celebrities have also worn bindis to awards shows and festivals, including Kylie and Kendall Jenner, Gwen Stefani, and Vanessa Hudgens. With a little help from celebrities to spread the trend, both bindis and headdresses have become commonplace at festivals and other events, despite the backlash.
While it's completely natural for people to draw inspiration from other cultures in today's globalized world, there's a big difference between inspiration and cultural appropriation. As some have noted, using another culture's religious symbol as an accessory is disrespectful to the millions of people to whom that symbol actually means something. And as one Instagram user pointed out on Abraham's picture of her MTV Awards outfit, it trivializes the prejudice that many minorities face on a daily basis.
"My mom gets looks if she wears [something] that belongs to our culture on the streets and she is south Asian and you are just decorating yourself?" an Instagram user wrote. "For an award show?"
Abraham told TooFab that she wasn't "at all" worried about sparking cultural appropriation backlash with her outfit — but judging by the internet's response to her look, it's something other people definitely did have on their mind.