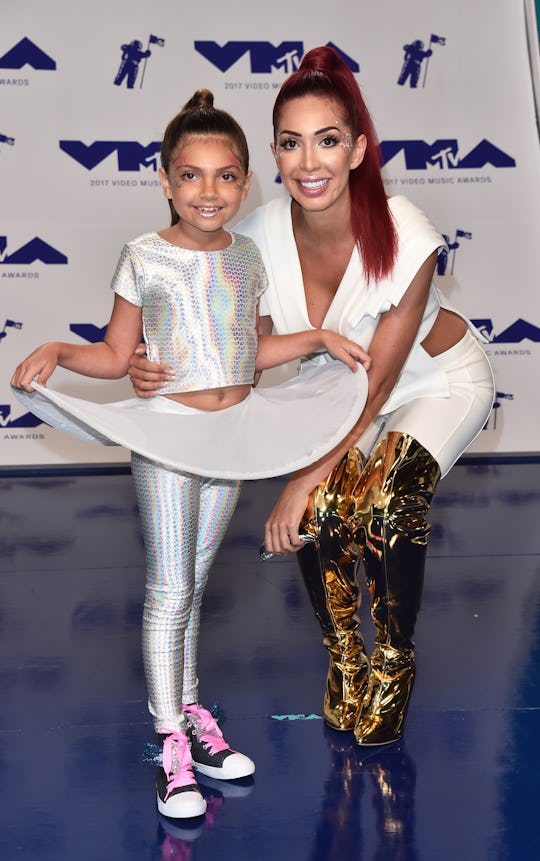 Alberto E. Rodriguez/Getty Images Entertainment/Getty Images
Fans Are Pissed After Farrah Abraham's Daughter Might Have Filmed An Instagram Live Video Alone
Former Teen Mom OG star Farrah Abraham is certainly no stranger to controversy: during her time on the MTV reality series, Abraham was often criticized for what appeared to be her confrontational and argumentative behaviour (she's had quite a few feuds with show producers), and she's regularly come under fire for her parenting decisions. A common gripe of Abraham's followers though? That she seems to encourage her 9-year-old daughter, Sophia, to seek out the spotlight through things like modeling and YouTube videos. But when Farrah Abraham's daughter filmed an unsupervised Instagram Live video recently, according to In Touch Weekly, some wondered if Farrah had crossed a line in her parenting approach (Farrah's rep did not immediately return Romper's request for comment).
Like her mother, Sophia Abraham has an active social media presence, and currently has more than 172,000 followers on Instagram. That's not entirely surprising when you consider that many people have literally watched the young girl grow up on television — her birth was aired on a 2009 episode of the first season of MTV's 16 and Pregnant, when Farrah was then a 17-year-old mom-to-be from Iowa, and her early childhood was later documented on the spin-off series, Teen Mom. As she's done with her own reality TV fame, Farrah seems to have tried her best to capitalize as much as possible on Sophia's TV experience to support her and provide her opportunities for her future, and now, Sophia's Instagram bio describes the young girl as an actress, model, and influencer. But despite what appear to be Farrah's best intentions, many of their followers are wondering if she's actually putting Sophia's safety at risk in the name of likes and shares.
Sophia's Instagram account indicates that it's actually managed by Farrah, and given that she's proven to have a pretty strong social media game herself, it makes sense that she'd want to extend that to her daughter. But it's also a really important distinction to make, simply because, at 9 years old, she's also too young to have her own account. According to Instagram, users must be at least 13 years old, and accounts belonging to those younger than 13 can be reported. Even still, Farrah has been grilled in the past for her decision to share content on her daughter's page that some have considered inappropriate, like photos of Sophia in a bathing suit with makeup on in a modeling photo shoot in June 2016, according to Us Weekly.
Whether or not you agree with Farrah's decision, some parents do support the idea of their children having modeling careers or being in competitive beauty pageants, for example, so it's not exactly fair to skewer Farrah for that specifically. But Sophia's reported recent appearance on an Instagram Live video on her account is concerning for a different reason — namely that she seemed to be by herself, and because some of the comments were pretty creepy and inappropriate.
The nature of Instagram Live videos is that they're only available for a limited time, but before Sophia's video disappeared, one concerned viewer took a screenshot of the chat and posted it to a Teen Mom-related Reddit thread. In the photo, one unnamed user looks to have sent a comment to Sophia saying that she was "hot" — which, is definitely not an OK thing to ever say to a 9-year-old girl — and the video itself seemingly led to at least one of the Reddit commenters to report it to Instagram (Instagram did not immediately return Romper's request for comment).
It's one thing, of course, to rag on a celeb mom for her parenting style (everyone has an opinion on social media, it seems), but if Sophia was filming the video without supervision, and if she was getting inappropriate comments from online strangers, that really is worrisome. And while the risk involved may not always be obvious, it's something that Farrah — and all parents — need to understand in order to keep their kids safe. (Farrah's representative did not immediately respond to Romper's request for comment.)
For one, according to Common Sense Media, public photos and videos shared on Instagram "can contain location data," and in general, according to Kaspersky Lab's site Kids Safety, when children take live streaming video they may also be giving away additional personal information without realizing — where they go to school, for example, or the route they take home. But then there is also the threat of exposure to inappropriate or explicit comments or content. According to Kids Safety,
Unwanted viewers might bully a kid, commenting on their looks, voice, manner of speech, and surroundings. Abusive or explicit messages are not uncommon. With tens of thousands live streams on at any given moment, moderation is practically impossible.
One recommendation for parents whose kids are on Instagram, according to TODAY Parents? At the very least, make the account private, and follow your child so that you can see what they're posting. For a kid like Sophia though, whose social media following is likely a source of income (or at least publicity), that obviously may not be something Farrah is jumping at the opportunity to do. And that can be a big part of the problem.
As dangerous as it can be, after all, for parents to share things online even when they don't realize it can be used for shady purposes (according to the Child Rescue Coalition, "cute" photos shared innocently by parents of children in the bath, for example, can be picked up and shared on child pornography sites), it's another issue entirely when sharing online publicly is something a child like Sophia feels they "should" do in order to keep their social media following.
While it's unfair to assume that Farrah knew about the video or its comments, or that she would be against shutting down Sophia's account if it were unsafe, the concerned commentary about her online presence doesn't seem entirely off the mark. And, in general, it's a reminder that all parents ultimately have to weigh the risks and benefits of allowing their children to be on social media, because as much as we may want to think that it's harmless, that's unfortunately not always the case.