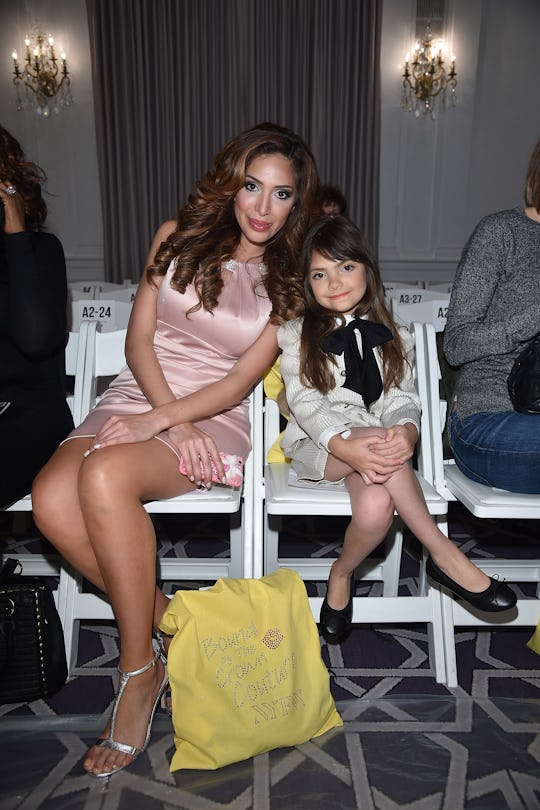 Jacopo Raule/Getty Images Entertainment/Getty Images
Farrah Abraham's Daughter Was Shamed On Instagram, This Time Because She "Needs Braces"
The internet officially reached peak mean on Monday, when former Teen Mom star Farrah Abraham's daughter was shamed on Instagram by "fans" who think that 7-year-old Sophia needs braces. Shut it down, you guys. This was a fun experiment, but this clearly proves that we can't have nice things, because we are awful and don't deserve them. No matter what people might think of Farrah, who's made a career out of showcasing her questionable choices, Sophia is a child who never asked for any attention from a horde of trolls.
Although the most disturbing part of this story is undoubtedly the idea of anyone shaming a child's looks, another important thing to note is that her teeth look absolutely fine. Zoom in on the photo below, or any photo of Sophia, for that matter, and it's plain to see that her teeth are perfectly straight. (Though even if they weren't, why would you shame someone for something like that? Aren't young girls more than just their looks?) Sadly, people might be picking on Sophia's teeth because her mom specifically highlighted Sophia's insecurity about her teeth in the past, telling Us Weekly, "She's been going through a hard time right now losing all of her teeth." Farrah said that her young daughter wishes she had teeth just like her mother's, which are cosmetically altered.
Farrah has been very open about her extensive plastic surgery, and in 2015, she told People that she's "such a supporter of cosmetic and plastic surgery," and was interested in becoming a plastic surgeon herself. It's actually become common practice with her fellow Teen Mom stars; it seems that coming of age on camera has led a number of them to value their looks a bit more than the average young woman their age.
Will being raised in such a culture have a lasting effect on Sophia? While her mother has called her "perfect" and "gorgeous," she also has "no issues" with the thought of her daughter having plastic surgery herself, and famously waxed the child's eyebrows when she was just 3 years old, later telling ABC News, "People just kept commenting on a unibrow, and I was just, like, 'Maybe I am letting it go too far.'" Sophia's eyebrows and teeth look fine to me, for the record, but the point is that it doesn't matter whether she's model-perfect or a human gargoyle, she's just a little kid, and she should be concentrating on learning to subtract numbers and tie her shoes right now. Her looks do not define her, and anyone who thinks they do has no business around children, on the internet or off.