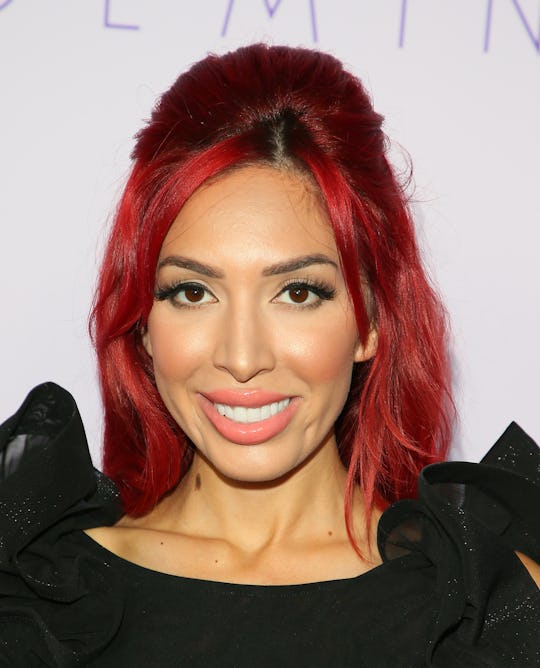 Jean Baptiste Lacroix/Getty Images Entertainment/Getty Images
People Are Angry About The Juice Farrah Abraham's Daughter Is Drinking In These Photos
Can Farrah Abraham ever catch a break? I swear, trolls hound her constantly about "setting a bad example" for her daughter. Whether it's because of plastic surgery she's had, the sexy photos she posts on social media, or the fact that she has dabbled in the pornography industry, Abraham's social media posts are filled with hateful attacks on her character. Not to mention, they criticize the young mom's parenting at every opportunity. (Honestly, I'm surprised the former 16 & Pregnant star is still brave enough to put herself out there at this point.) Most recently, Farrah Abraham's photos of Sophia drinking $150 apple juice are making people so angry.
As People reported, Abraham and her 9-year-old daughter are currently on vacation in Dubai. They recently hit up the Skyview Bar, which is located at the top of a luxury hotel called the Burj Al Alarab. On Wednesday — just ahead of the former Teen Mom OG star's 28th birthday, according to the publication — mother and daughter were photographed celebrating in style with some seriously fancy juice. "The one the only @sophialabraham kiddo to have the best tea in all of Dubai the gold juice for kids will never be forgotten!" Abraham captioned a photo of mother and daughter at the Sky Bar. "Cheers with the best champagne in the world."
Oh and by the way, when Abraham days "gold juice," she means it — literally. That's because they're drinking apple juice that's infused with actual gold flakes, and according to Lovindubai.com, Abraham apparently dropped $150 for a bottle of the fancy drink.
Abraham also shared a video of their fancy outing on Sophia's Instagram account, Cosmopolitan reported. In the clip, you can hear Abraham saying, "They have some great sparkling juices here with real gold in it!"
Also on Sophia's Instagram account, Abraham posted a photo of Sophia smiling while holding her glass of apple juice.
Between these three posts, it seems like followers had a lot to say about the situation as a whole. Initially, some Instagram followers thought Sophia was drinking alcohol. "It wouldn't surprise me if Sophia is drinking alcohol...she is a sad excuse for a mother..." one follower commented. "Let Sophia be a kid, let her play with other children instead of being her mothers best friend."
Many others voiced their concern for what Sophia should be doing as a homeschooled, 9-year-old girl. "Sophia is never around kids her own age, which is sad," one Instagram user commented. "You should have kept her in school and stop treating her like a teenager." Another chimed in with, "I just wonder how much home schooling is being done. I feel like her mom needs to make some friends she can travel with. It's good she gets the see the world but I hope her education isn't lacking because of it." Abraham did not immediately respond to Romper's request for comment regarding the criticism.
Other commenters didn't hold back their opinions about the expensive drink. At all. "Dumb people eat or drink gold, thats so stupid," one particularly blunt follower shared. Others took a tongue-in-cheek approach when criticizing Abraham for splurging on drinkable gold. "Because you are supposed to eat gold. The more metal you consume — the better," another Instagram user wrote. "Especially kids. They just develop better with a lot of gold inside."
Just for the record, consuming gold — whether it's in food or drinks — is perfectly safe, TheConversation.com reported.
Gold is an inert metal and is therefore not degraded by the acid in our stomachs. It will travel the length of the intestinal system unchanged, passing out in your poo. Depending on the sewage treatment system, it will eventually be returned to the land or washed out to sea ready to be recycled again. It casts panning for gold in an entirely new light.
The way I see it, if you can swing it financially, eat gold until your heart's content. (Side note: You can also buy gold-dipped chicken wings for $1,000.) It's not hurting anyone — and it's your money, after all. As for me, I prefer to splurge extra money on fun things with my kids. (Plus, my kids seem to be perfectly fine with the cheap boxes of apple juice I buy from Aldi.) Regardless, it looks like Farrah Abraham and Sophia had a nice time together at Sky Bar. And if drinking gold-infused apple juice is their idea of fun, then can we just give the reality star a break? Because this relentless mom-shaming isn't definitely getting old.