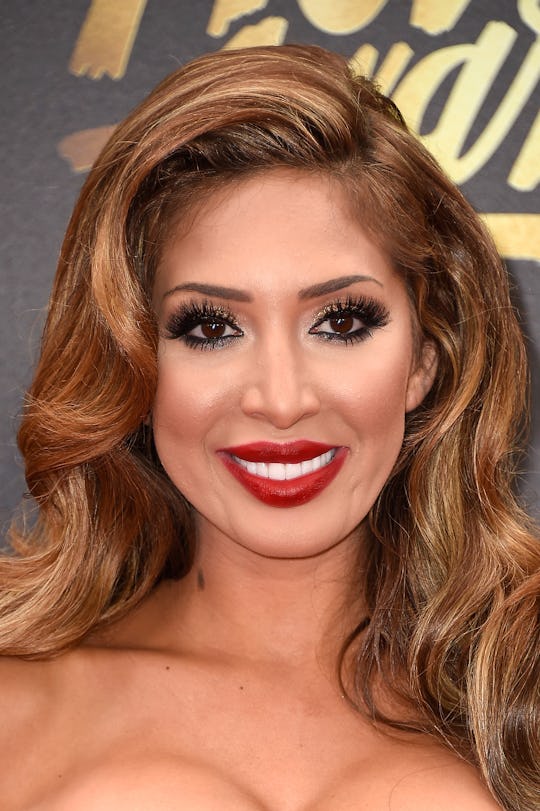 Frazer Harrison/Getty Images Entertainment/Getty Images
Farrah Abraham's Wonder Woman Costume At The VMAs Had Everyone Talking
Farrah Abraham knows how to put on a show. The former teen mom and reality star showed up on the Video Music Awards red carpet Sunday in a get-up that had all of social media talking — and for good reason: Abraham's Wonder Woman costume was one for the award show history books. Immediately (and perhaps unsurprisingly), Twitter was flooded with opinions.
Of course, there were the obvious critics. "What's wrong with FARRAH ABRAHAM," one user tweeted. In response, a follower replied disapprovingly, "She wasn't hugged enough as a child." But while dozens responded negatively, Abraham had her backers.
"Farrah Abraham looks fierce tonight!" wrote one user, applauding the star's superhero get-up. They weren't wrong either: From her dyed teal blue locks to her comic-inspired body paint, all the way down to her glittery silver heels, Abraham's costume definitely made a statement — though what that statement was meant to convey wasn't exactly clear.
Over on Instagram, Abraham's followers were having a field day. "Omg awesome cosplay Farrah!" wrote one fan. Another simply enthused, "You look amazing!"
On the red carpet, Abraham mugged for the cameras, posing with fellow reality stars and plugging her show Teen Mom OG with comedian Branden Miller (who was equally fierce in his own silvery outfit, complete with a fur stole).
Abraham's costume choice was no doubt inspired by her real life antics: Just recently, the mom of one stepped up to voice her pride in fellow Teen Mom Jenelle Evans. "I'm actually really proud of her that she stopped doing drugs," Abraham said of Evans, who is expecting her third child with boyfriend David Eason, in an interview with Us Weekly last week. "She definitely wants to try to find a better man to hopefully marry and have a bigger family with, if she wants to. … I see her taking the initiative to totally change up things to be more welcoming to her mom. That's a hard thing thinking back to their past of her mom trying to take her child away."
The 25-year-old is known well for her bold willingness to speak out. In 2014, The Daily Mail reported that Abraham had said she would likely support her daughter's decision to get plastic surgery, if she decided to do so down the road:
If she validly wants something, that's not outlandish, and she envisions herself that way, well then, yeah I'm going to support that.... Hopefully by that time, I'll have like fifteen years or so, I'll be out with my PhD and my doctorate, and I will be able to help her clinically and personally. So I'm super supportive in that and I hope to help her in the best ways possible.
Abraham's decision to don a Wonder Woman costume at the VMAs on Sunday may have been bold — of course, given how quickly she jumps to the aid of her fellow women and girls, it felt particularly fitting.