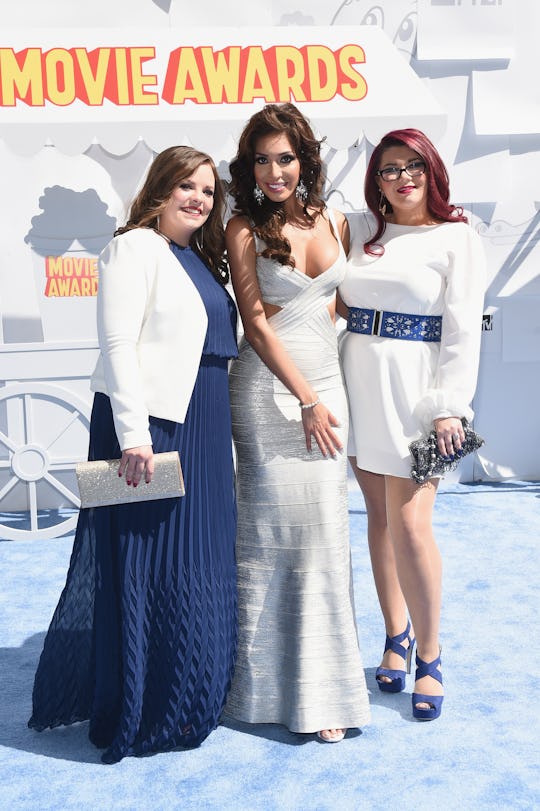 Michael Buckner/Getty Images Entertainment/Getty Images
Farrah & Amber Fight On The 'Teen Mom OG' Reunion, & This Timeline May Explain Why
Ding ding! Teen moms get physical for the first time as Farrah Abraham & Amber Portwood fight on Teen Mom OG Reunion. We've seen our fair share of fights on Teen Mom, the screaming matches we see on the show are pretty intense. In this particular case, the two have had beef for years, but things have never before escalated to the necessity of bodyguards. According to Us Weekly, the fist fight took place at the Teen Mom OG reunion on Saturday, October 22, while the moms spoke to Dr. Drew Pinsky. Amber has a history with violence, assaulting former boyfriend, Gary, before according to ABC News. We've also seen Farrah push an MTV producer in the past, but now we got to see these two verse each other like a real-life Celebrity Death Match episode.
Pinsky questioned Farrah's boyfriend, Simon Saran, about comments he made on his Snapchats while watching the series. Namely, of Saran saying that Matt is "the red dot in your community," which In Touch Weekly suggests is insinuating that he called him a pedophile. Simon looked like he was about to apologize for his rude remarks when Farrah jumped in saying "Well, [Matt] does kind of look like a pedophile," according to an insider with Mr. Real Housewife Blog. That's when things got ugly. Amber wasn't going to take that comment sitting down — literally. She rushed to the stage to go after her costar. Farrah's father, Michael, even got involved in an attempt to defend his daughter.
Simon later recounted the heated occurrence on Twitter describing Amber as a hippo.
She has shown a certain distaste for Farrah just earlier this month. On October 10, Amber tweeted that she ended up passing on a "certain show":
Then, Farrah criticized other Teen Mom cast member's parenting decisions for not including their children on the covers of their books . Fortunately, Amber thought up a nice bite back with this tweet, standing up for herself, saying she was doing her book cover alone, out of respect for her daughter.
Farrah has also gone head-to-head with Teen Mom costars, Nicki Minaj, the Kardashians, and the very entity that made her famous: MTV.
We'll have to wait and see if everything will clear up, or if the bad blood will continue to flow on Twitter, and TV. Watch the gloves come off on MTV's Teen Mom OG Mondays at 9 p.m. ET.