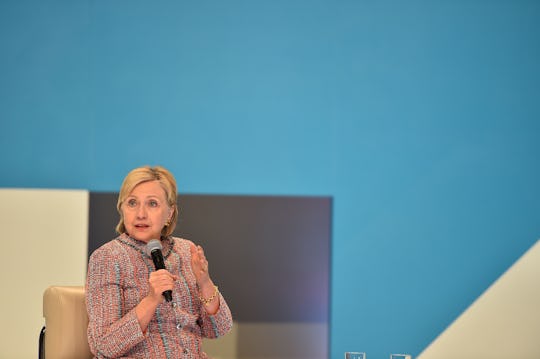 ROBYN BECK/AFP/Getty Images
FBI Says Clinton Was "Extremely Careless" With Emails, But Recommends No Charges
The director of the Federal Bureau of Investigation, James Comey, spoke at FBI headquarters on Tuesday morning to deliver the results of the FBI's investigation into Democratic frontrunner Hillary Clinton's use of private email servers during her time as secretary of state. The investigation concluded that Clinton and her team were "extremely careless," but that the findings should not warrant a case against Clinton.
During its investigation, which began a year ago, the FBI found that 110 emails in 52 email chains on Clinton's private server contained classified information. Of those 110 emails, eight contained information deemed "top secret," according to Comey. To reach its recommendation, the FBI read through 30,000 emails Clinton provided to the State Department. It also found several thousand extra work emails that Clinton had not handed over.
An earlier audit, delivered in May, showed that State Department officials had warned Clinton's team at the time that her email setup violated federal standards and left her open to hackers. The May report also showed that Clinton declined a State email because she didn't "want any risk of the personal being accessible," according to The New York Times.
As part of the FBI's investigation, Clinton was questioned for three and a half hours on Saturday, an interview which her spokesperson said was "voluntary," according to CNBC.
The FBI's recommendation against indicting Clinton isn't mandatory, so the case isn't closed quite yet. However, Attorney General Loretta Lynch said Friday that she would accept whatever recommendation the FBI came to after its investigation concluded. (Lynch's decision was announced just after she had an impromptu, private meeting with Clinton's husband and former president, Bill Clinton, in Phoenix — a meeting which Lynch claimed was "social," but which was still received rather negatively by the public.)
The email investigation first began after a committee began looking into the terrorist attack that killed four Americans in a Benghazi, Libya, diplomatic outpost in 2012. When the committee requested records of the communication between Clinton and other officials involved, State Department lawyers realized Clinton was using a non-governmental email, routed through her home server in New York.
"With respect to potential computer intrusion by hostile actors, we did not find direct evidence that Secretary Clinton's personal e-mail domain, in its various configurations since 2009, was successfully hacked," Comey said in his statement. "But, given the nature of the system and of the actors potentially involved, we assess that we would be unlikely to see such direct evidence. ... We assess it is possible that hostile actors gained access to Secretary Clinton's personal e-mail account."
Comey wrapped up his statement with the FBI's recommendation. "No reasonable prosecutor would bring such a case," he said. "Our view that no charges are appropriate in this case."
Considering Lynch's decision to stick with FBI recommendations, it's unlikely that charges will be brought against Clinton. Either way, the investigation into Clinton's email server use has already been a hot topic throughout the primaries, and will likely continue to be used as ammo by the Republican nominee leading up to the general elections.