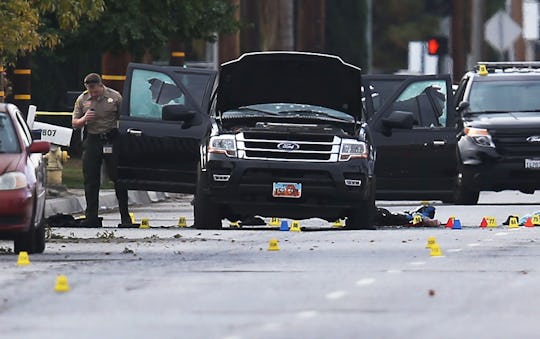 FBI Says San Bernardino Attack Was Terrorism, & They're Investigating Further
David Bowditch, assistant director of the FBI Los Angeles, said the FBI is investigating the San Bernardino shooting as an act of terrorism. Both suspects, married couple Syed Farook and Tashfeen Malik, were shot dead after the attack, which killed 14 and injured at least 21 at a holiday party. After explosives were found in the couple's residence and evidence of extensive planning, the FBI is now treating the shooting at the Inland Regional Center as an act of terrorism.
In light of a Facebook post of Malik's that pledged allegiance ISIS, there has been speculation that she may have had some sort of relationship to the organization — however, it's likely that it's simply that: speculation. FBI's Bowditch said they were aware of the post and looking into possible connections, although a federal law official recently told the New York Times that they believe the couple "were more self-radicalized and inspired by the group than actually told to do the shooting."
The FBI also uncovered evidence recently that Farook was in contact with several individuals under investigation for possible terrorism. There are at least three dozen that the FBI monitors with heavy surveillance. The links came after the agency found the couple's phones, crushed, in a public bin near their house.
Bowditch reminded the public and media that they are only three days into the investigation, and that it would be some time before all details emerged.
Image: Joe Raedle/Getty Images