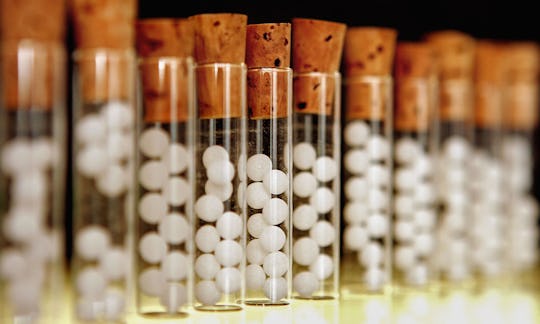 Peter Macdiarmid/Getty Images News/Getty Images
FDA Says Homeopathic Teething Tablets & Gels Are Dangerous In Rare Warning
Parents who have been giving their little ones homeopathic remedies to help them deal with the pain of teething should consider stopping immediately. The U.S. Food and Drug Administration issued a rare warning this week that homeopathic tablets and gels aimed at teething infants may have adverse side effects. The FDA recommended that parents stop using homeopathic teething products, but the agency didn't stop there—the agency also recommended that consumers "dispose of any in their possession."
These tablets and gels are popular amongst parents looking for a way to soothe their teething infants. In general, over-the-counter medications are not to be used on babies who are not yet 6 months old. Homeopathy seems to provide a loophole, and a common one at that. The teething tablets and gels are sold by retail giant CVS, the well-known homeopathy company Hyland's, and others. But now the FDA is making clear that looking for a loophole comes with a cost.
In the press release, the FDA said:
The FDA is analyzing adverse events reported to the agency regarding homeopathic teething tablets and gels, including seizures in infants and children who were given these products, since a 2010 safety alert about homeopathic teething tablets. The FDA is currently investigating this issue, including testing product samples. The agency will continue to communicate with the public as more information is available.
Homeopathy is an alternative system of medicine involving natural substances. It has long been a subject of controversy. Many studies have failed to find evidence that these homeopathic remedies actually work any better than placebos. And although the FDA does regulate these remedies, it doesn't often test them for safety or effectiveness, which is definitely scary.
However, as mentioned in the new FDA statement, the agency has been paying attention to Hyland's Teething Tablets since 2010, and the results have not been encouraging. Back in 2010, the FDA released a safety alert because Hyland's was not carefully regulating the amount of belladonna, a substance that can be potentially harmful at certain doses, in the tablets. The potential side effects listed back in that alert were "seizures, difficulty breathing, lethargy, excessive sleepiness, muscle weakness, skin flushing, constipation, difficulty urinating, or agitation." While it may not be fun for infants to experience the discomfort of teething without medication, the potential side effects of these homeopathic remedies could be much worse.
And as Janet Woodcock, M.D., the director of the FDA's Center for Drug Evaluation and Research, said in the new alert, "Teething can be managed without prescription or over-the-counter remedies." On the heels of the FDA's recommendation, parents looking for a way to soothe their children should probably consult with their doctors instead of stocking up on teething tablets at CVS.