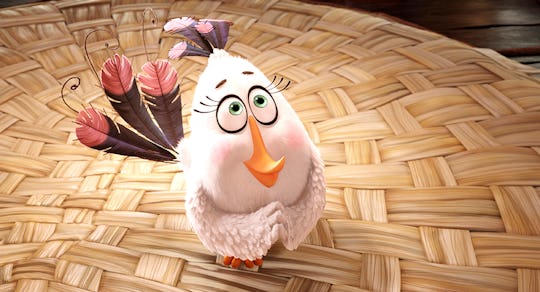 Sony Pictures
Feathers Are Easily Ruffled For Maya Rudolph's 'Angry Birds' Character Matilda — Exclusive
Ruffling someone's feathers is taken to a whole new level in The Angry Birds Movie with the character Matilda. Matilda, voiced by the incomparable Maya Rudolph, is the movies' resident "reformed angerholic" as directors Fergal Reilly and Clay Kaytis say in a behind-the-scenes look at the making of the film. The movie, inspired by the popular video game/app of the same name, is being released digitally Friday, July 29, and physical copies will be available to buy August 16.
In the exclusive clip, Rudolph and the directors discuss the making of the movie, specifically Matilda's character and the particular skill she has when it comes to eggs. For her part, Rudolph sees Matilda as someone who "spreads the joy, and the love, and all the positivity", but that doesn't mean that there isn't an undercurrent of her barely hanging on by a thread. The character is very much inspired by the character in the game, which comes through in her design and her special skills.
Check out the clip below to see Rudolph and the creators of the film speak on the character and bringing the video game to life. You can get a digital copy of The Angry Birds Movie on July 29, and pick up a physical copy August 16.
Images courtesy of Sony Pictures Entertainment