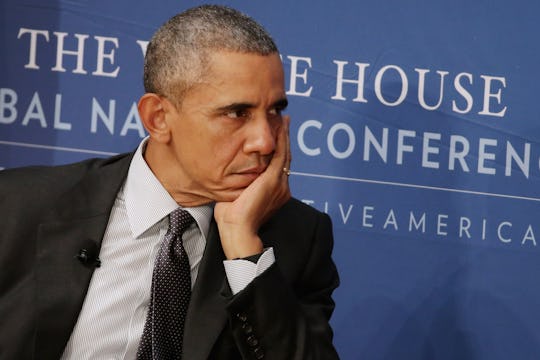 Chip Somodevilla/Getty Images
Federal Court Rules Against Obama Immigration Plan, & Here Are Two Major Ways That Could Impact Families
On Monday, a federal court ruled against an Obama administration immigration initiative that would have protected some 5 million undocumented immigrants from deportation. The ruling is a massive setback for the administration, since the timeline for further appeals and court proceedings could push implementation of President Obama's overhaul of the immigration system well past his final day in office. But most importantly, the court's decision has an immediate impact on millions of immigrant parents and children, many of whom are in danger of deportation while the court battle drags on.
After Republicans in Congress failed to pass a comprehensive immigration reform plan last year, President Obama announced plans to use his authority to provide a temporary solution. The President signed an executive order that would allow immigrants who have lived in the country for 5 years or more to apply for work permits as long as they hadn't committed any other crimes. In addition, the order halted deportation for those who were brought into the U.S. illegally as children.
The plan immediately came under fire from Republicans who argued that the order represented an overreach of the President's authority. Some 26 states filed suit to block the program, arguing that they would have to absorb high administrative fees.
EMBED:
Given the court's decision, the question quickly becomes what's next for millions of undocumented immigrants who would have benefitted from the President's plan. There are at least two major ways that the federal court ruling will impact the 4.3 million immigrants currently in legal limbo.
Possible Deportation Remains A Reality
There are an estimated 11 million people living in the U.S. illegally, but the President's order would have offered a temporary legal path only to those who are working and caring for children who are citizens or legal residents. Of course, the immediate impact of the federal court ruling is that the 4.3 million people who might have been eligible for protection are left vulnerable to possible deportation. Immigration-rights advocate Greisa Martinez told USA Today that the court's decision will keep many people living in fear for the near future:
QUOTE: This ruling means that millions of immigrants, including my mother, will continue to live in fear, unable to work legally, and be at risk of being deported until this matter is resolved.
The 2016 Election Takes On Deeper Meaning
While White House and Obama Administration officials haven't said publicly what the next legal steps might be, the decision will certainly mean several more months of court proceedings. That timing is not just problematic for a President nearing the end of his second term, but for millions of immigrants who could suddenly be at the mercy of an unfriendly administration. So far, the Republican candidates have had a race-to-the-bottom on immigration policy, with nearly all of the contenders vowing to make casting out undocumented immigrants a top presidential priority.
For millions of people across the united States, whether American voters side with Republican anti-immigrant rhetoric has suddenly become a very serious question.
Images: Chip Somodevilla; Justin Sullivan/Getty Images