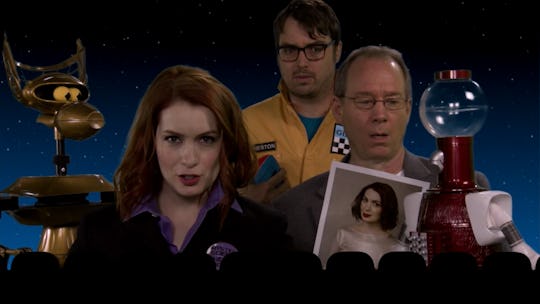 Bring Back MST3K
Felicia Day Joins 'Mystery Science Theater' Reboot, & The Internet Is Freaking Out
As we first learned a few weeks back, Mystery Science Theater 3000 is coming back. After launching the "Bring Back MST3K" Kickstarter on November 10, show creator Joel Hodgson was immediately flooded with donations from his legions of fans. Originally launched with a minimum goal of $2 million to fund three new episodes, the fund received over $1 million in its first 24 hours. The ultimate goal is $5.5 million, which would fund a full twelve episode season. And now, we finally have our first glimpse of who will star: Felicia Day has signed on to play Kinga Forrester in the MST3K reboot, according to the Kickstarter page — aka every nerd's imaginary girlfriend.
If that name sounds familiar, it's probably because Day starred in Dr. Horrible's Sing-Along Blog, Supernatural Eureka, Buffy the Vampire Slayer... and pretty much anything that can be described as a "cult hit." In other words, Felicia Day is basically the nerd version of the Manic Pixie Dream Girl, and an absolutely brilliant choice for MTS3K. Nerds on Twitter are beyond psyched– even the famous ones:
Oh, and people are happy for the other guy, too.
Although casting can't be totally formalized until the Kickstarter is completed, Hodgson has announced a few other "picks," too. The new host will be Jonah Ray, who you might know from the Nerdist podcast, or that one episode of Comedy Bang Bang? Tom Servo and Crow, the robots, will be voiced by comedians Hampton Yount and Baron Vaughn.
In other words: This MST3K reboot is gonna be goooood.
Image: Bring Back MST3K