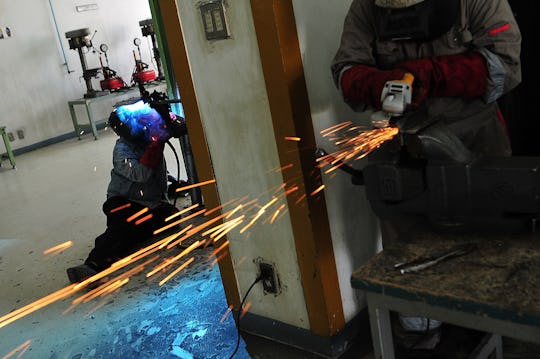 Veejay Villafranca/Getty Images News/Getty Images
Female Ironworkers Score Major Maternity Leave Win
The ironworking industry isn't exactly known for its feminine side, but a recent announcement from a major union shows that the industry certainly appreciates its female employees. According to industry sources, beginning this year, members of the Iron Workers union will be given six months of paid maternity leave. This female ironworkers' paid maternity leave policy is an important win for women in the workforce, especially since this is occurring in such a male-dominated industry.
The policy, spearheaded jointly by the Iron Workers union and Ironworker Management Progressive Action Cooperative Trust, offers six months of paid leave before childbirth, and six to eight weeks of leave after delivery. According to reporting about the new policy at BuzzFeed News, the decision was influenced by a recent all-female panel of iron workers, which spoke about the difficulties that women in the industry face. One woman in particular spoke about suffering a miscarriage after choosing to work while pregnant in order to maintain her paychecks and her health insurance.
"It was a heartfelt moment in the room," Eric Dean, the president of Iron Workers General, said of the woman's speech. "Everyone's stomach dropped, like someone had gut-punched you." Dean, along with Bill Brown, CEO of Ben Hur Construction Co., serve as co-chairs of the Iron Workers labor-management working group, and together they set to work, calculating the perks of offering maternity benefits to women in the industry. According to Modern Steel Construction magazine, the new policy was first announced in March, at the 2017 Iron Workers/IMPACT Conference in San Diego.
Brown and Dean, speaking with BuzzFeed News, revealed the calculations that went into the decision. According to Brown, training a new iron worker is a $32,000 investment. When a company loses a female employee during or after a pregnancy, this is a loss of $64,000 — taking into account the employee's own training, and the training that will be required to replace her.
"To protect our investment, if we wanted women to stay in our industry, we had to do something," Brown said.
In the larger context of parental leave policy in the United States, the new steelworker's maternity leave policy is extremely progressive, and that goes to show how extraordinarily low the bar is. The United States is one of the only countries in the world that doesn't offer some form of government-mandated paid parental leave. The only federal law in place is the 1993 Family Medical Leave Act, which requires certain categories of employer to offer up to 12 weeks of unpaid leave. Many employees don't qualify for even this skimpy protection because it only applies to workers who have been with the company for at least a year, and only if the company employs at least 50 people.
In the absence of federal guidance, some companies have decided to offer paid leave on their own. According to Forbes, companies to extend new parental leave benefits in 2015 and 2016 included Netflix, Microsoft, Amazon, Twitter, IKEA, and Chobani. Last year, Etsy, the Brooklyn-based online marketplace, extended one of the most generous policies in the country, offering six months of paid leave regardless of the employee's gender.
Despite these steps forward, the most recent numbers from the Bureau of Labor Statistics showed that only 13 percent of private sector employees had access to paid leave in 2016. That's up only one percentage point from 2015.
The new benefit offered by the Iron Workers union will apply to the 2,100 female members of a union that's 130,000 strong. According to an article by Kayla Devon at Builder magazine, this policy represents the first paid leave maternity benefit in the building trade industry. Devon writes that the new policy will "blow open the door for building trades to offer paid maternity leave programs that will attract more women to enter and stay in the field.
While progress may be frustratingly slow on the parental leave front, this new decision from the Iron Workers union is undoubtedly an important win for women in the workplace.