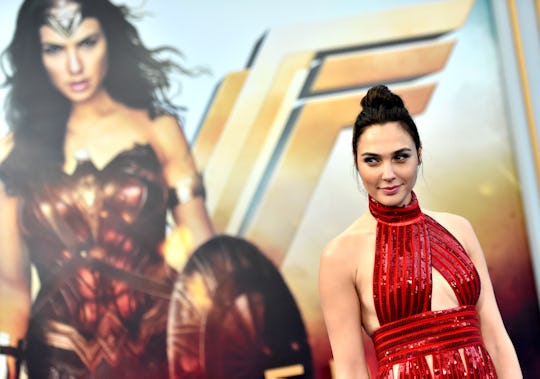 Frazer Harrison/Getty Images Entertainment/Getty Images
New Study Confirms Why Young Girls Need To See More Female Superheroes In Movies & TV
Superheroes are cool — that's kind of a universal fact. But, for many kids, growing up means struggling to see yourself represented in the media you love. And conversations around representation are sometimes pushed aside, but a recent study confirmed that seeing female superheroes boosts young girls' confidence, proving that, yes, representation really does matter.
Sci-fi and fantasy aren't always marketed to girls, which is ridiculous when you really think about it. There's nothing about superheroes that inherently says they aren't meant for girls, although the industry does have a lot to work on. Traditionally, female superheroes appear less in comics than males, as noted by The Pudding, and the ways they're represented can fall into weird tropes. For example, they're often stereotyped or used as tokens.
With all that said, though, young girls are still fans of sci-fi and fantasy, because they're fun genres. And when female superheroes are written well, they open up new doors for young girls to see themselves, and that's really important. And as more research is done, it's become clear that female superheroes benefit young girls, and the world needs more of them.
In the past decade, superhero movies have made a comeback, with powerhouses like the Marvel Cinematic Universe. The DC cinematic universe faced some difficulties coming back out of the gate, they still provided movies that young kids were excited to see. And although the majority of these new superhero movies have been led by men, young girls are beginning to see themselves represented more on the big screen, with hits like DC's Wonder Woman and Marvel's upcoming Captain Marvel.
Recently, BBC America and the Women's Media Center released a joint study, which examined how the depictions of women on screen impacted young women and girls. The "Superpowering Girls" study is part of BBC America's larger Galaxy of Women Initiative, which aims to expand "both the diversity and representation of women in media," according to BBC America.
For the study, 2,431 children ages 5 to 19 were surveyed, according to CNet. What the researchers found is not only interesting, but helps back up all the women who have spoken out about representation before.
"Girls say there are #NotEnough female role models or strong, relatable female characters in film and TV," the study's infographic said. As noted by CNet, the study found that "every demographic desired more female leads in sci-fi and superhero movies and TV shows."
The study also found a "confidence gap". As outlined by Vice, only 70 percent of girls 15 to 19 feel "confident" compared to 81 percent of boys. In addition, the study noted that although 57 percent of girls feel "not listened to" and that number is "significantly higher" for girls of color.
What's more, as Newsweek reported, the research found that nine in 10 girls said that they view "sci-fi/superheroes are positive role models," and believe women in those roles are "smarter and more powerful than men." Wonder Woman, for instance, helps young girls feel "strong, brave, confident, inspired, positive and motivated," according to the study, as Newsweek reported.
In a statement, BBC America's president Sarah Barnett spoke about the study:
If you can't see her, you can't be her. It's time to expand what gets seen, and we hope this report will contribute to sparking change in the stories we see on screen. With greater representation of female heroes in the sci-fi and superhero genre, we can help superpower the next generation of women.
It's not just movies that matter, but television as well. Doctor Who, a longtime British sci-fi classic with its own cult following, follows one character known as The Doctor and their companions. As noted by IMDb, the Doctor is a Time Lord who can change appearance and gender by regenerating when near death. Doctor Who originally aired in 1963, and only now, with its Thirteenth Doctor, has the show gained a female doctor — and her reveal was viewed in record-breaking numbers. According to The Telegraph, 9 million people tuned into the Season 11 premiere, making it the most-watched new Doctor debut in a decade.
The Thirteenth Doctor is met by excitement from young girls. According to the study, 3 out of 4 girls agreed a female doctor is long overdue and that they could relate to a female doctor more.
For young girls, it seems that there may be a new shift in media. And hopefully, as the conversation around representation expands, all children will soon be able to see themselves accurately represented in media.