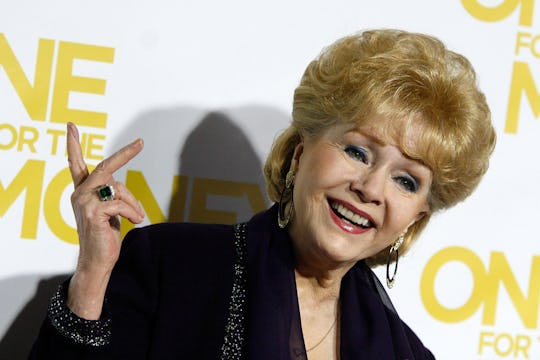 Andy Kropa/Getty Images Entertainment/Getty Images
The Most Feminist Debbie Reynolds Quotes
Not even a day after the death of her daughter, the iconic and unforgettable Carrie Fisher, Debbie Reynolds died on Wednesday, December 28 at the age of 84 years old. Though her death comes as a crippling shock to so many, Reynolds' long-standing career is a testament to the influence and legacy she leaves behind. In fact, the Debbie Reynolds' most feminist quotes highlight not only just how far-reaching her sheer talent was, but also what a symbol she was for women and girls who idolized and looked up to her all over the world.
According to a report issued by TMZ, Reynolds was rushed to the hospital just after 1 p.m. after reportedly suffering from a possible stroke. TMZ noted that at the time, Reynolds and her son Todd were in the middle of making funeral arrangements for Fisher's funeral services. In a statement provided to Variety, Todd noted that his mother "wanted to be Carrie" following the news of her sudden and untimely passing. In addition to her son, Reynolds is also survived by a granddaughter, actress Billie Lourd. The depth and scope of Reynolds' career on both the big screen and in the communities she most cared about serves as a reminder of all the actress and philanthropist cared about. And her most memorable feminist quotes highlight just how deeply the loss of yet another icon runs for those in the feminist community.
On Giving Your All
Reynolds, according to Parade, spoke candidly about her career out of the limelight. She said:
I gave it all that I had, and it's gratifying that others seem to be receiving it so well.
On What She Is And Isn't Willing To Do For The Cameras
I stopped making movies because I don't like taking my clothes off. Maybe it's realism, but in my opinion, it's utter filth.
On The Loss Of Her Daughter, Carrie Fisher
Just hours after her daughter's death, Reynolds took to Facebook to mourn with fans over the untimely death of her daughter, Carrie Fisher. Reynolds posted the below quote, as feminist and as celebratory as ever:
Thank you to everyone who has embraced the gifts and talents of my beloved and amazing daughter. I am grateful for your thoughts and prayers that are now guiding her to her next stop. Love Carries Mother
On Women Sleeping With Men
Amidst all of the hoopla caused when Fisher revealed she'd slept with co-star Harrison Ford, Reynolds once again took to her person Facebook to drop the mic on all of the gossip:
What's all the fuss about Carrie Fisher admitting she had an affair with the gorgeous Harrison Ford?
On The Love She Has For Her Children
Reynolds was incredibly candid about her relationship with her daughter, Fisher, in her book, Unsinkable: A Memoir. She wrote, in particular, about the depth of her lover for Fisher and just how endless it runs:
Carrie is my child, and I love her with every ounce of strength I possess. If love alone could cure our children, they would always be well. Since I can't, I will do whatever I can to make her life less difficult.
Though it is an awful twist of fate to lose both Fisher and her mom in less than 24 hours, fans and mourners can find comfort in knowing that the two are together in a galaxy far, far away, and that is a beautiful, wonderful thing.