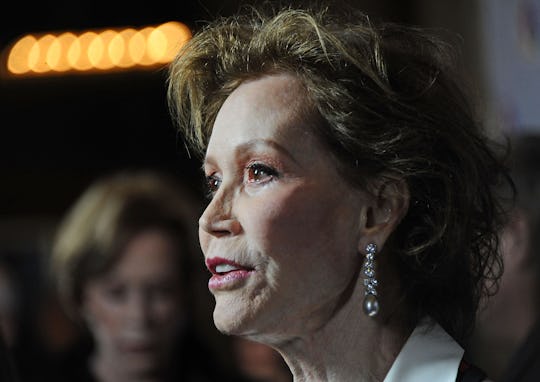 Angela Weiss/Getty Images Entertainment/Getty Images
Feminist Mary Tyler Moore Quotes To Live By
Mary Tyler Moore may not have adopted the label "feminist" during her prolific life and career, but her life's work tells another story. The Oscar-nominated actress died Wednesday at 80 of complications of pneumonia, having inspired a generation of career-minded women who came up during the Women's Movement of the 1970s. Moore's death comes just days after women all over the country pulled off the biggest march for their rights in the history of the United States, and that's just one of the many reasons that feminist quotes from Mary Tyler Moore are just as relevant and necessary as ever as women around the globe continue to seek justice and equality.
As Virginia Heffernan wrote for The New York Times, Moore's character on her eponymous 1970s sitcom, The Mary Tyler Moore Show, truly did "define a new vision of American womanhood." Mary Richards was a single woman who climbed the ranks at the Minneapolis television station where she worked; She took birth control pills and unabashedly requested pay equal to that of her male colleagues.
In real life, Moore herself produced the show and would personally win a total of six Emmys, not to mention the whopping 29 the show won and a Screen Actors Guild lifetime achievement award in 2012 for accomplishments on television as well as in theater and in films. Her enormous success and her dedication to portraying women in a dynamic way earned her feminist icon status, whether she embraced it or not. But her own words throughout the years show that she undoubtedly believed women and men should have the same opportunities and freedoms in life — which is, of course, the very definition of feminism.
On Whether Her Character Mary Richards Was A Feminist
"She wasn't aggressive about it, but she surely was," Moore told CNN's Larry King in a 2002 interview, in response to a question about whether The Mary Tyler Moore Show's main character was a feminist. "The writers never forgot that. They had her in situations where she had to deal with it."
On Subverting The Patriarchy With Pants
When she starred as a stay-at-home mom Laura Petrie on The Dick Van Dyke Show between 1961 and 1966, Moore wanted to portray the character as realistic, relatable, and more concerned about her own comfort than strictly adhering to norms of the time. "I had Laura wear pants, because I said, 'Women don't wear full-skirted dresses to vacuum in,'" she told TV Guide in 2004.
On Why She Works
"I've come to the point in my life where I don't have to work," she said in 1995, according to The New York Times. "I work because I enjoy it." Considering Moore's pointed effort to create female characters who are ambitious and multi-dimensional (The Mary Tyler Moore Show's Mary Richards climbed from secretary to associate news producer at her fictional job) and Moore's co-founder status of the production company MGM Enterprises, she was truly the antithesis of the idea that women should not pursue careers as men do.
No wonder fellow mega success Oprah lost it when Moore surprised her on her show.
Describing Her Comedy
The Washington Post reported that Moore once said she had always thought of herself as "a new kind of comedian — the funny straight woman." Even nearly two decades into the 21st century, the debate still rages about whether women truly can be funny (despite mountains of evidence that, of course, they can be — and are). Case in point: TV Guide rated an episode of The Mary Tyler Moore Show in which Mary Richards can't stop laughing at a clown's funeral as the best episode in television history in 1997. Now, it's maintained its position in the top three.
On Being Proud Of Herself
"I knew at a very early age what I wanted to do," Moore once said, according to The Latin Times. "Some people refer to it as indulging in my instincts and artistic bent. I call it just showing off, which was what I did from about three years of age on."
Too often, confident women who celebrate their strengths without trying to make others comfortable are considered selfish, cocky, overly ambitious, and a stream of other unflattering signifiers. So, kudos to Moore for showing off and not bothering to hide or downplay her talent — no matter what.
On Being True To Herself
"I'm not an actress who can create a character," Moore once explained. "I play me."
And because Mary Richards was very much a feminist character, it only follows that Mary Tyler Moore herself shared many of those same values of independence and sexual freedom.
With her confidence, wit, immense talent, and forward-thinking, Moore was a feminist of her day. And just as she did more than 40 years ago when she shook up what it means to be an American woman on The Mary Tyler Moore Show, her memory and accomplishments continue to show all of us what's possible.