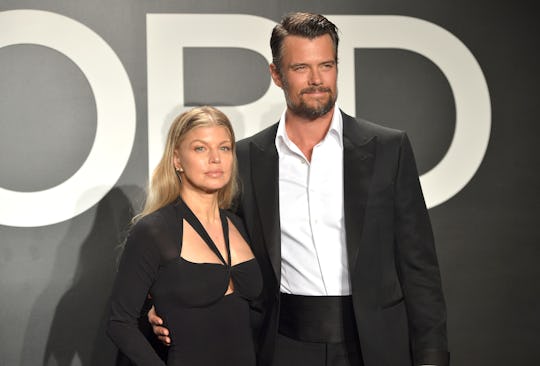 Charley Gallay/Getty Images Entertainment/Getty Images
Fergie Gets Honest About Co-Parenting With Josh Duhamel, & Separated Parents Will Totally Get It
Moving on after a divorce isn't easy, but it can be a whole lot more complicated when there are children involved. Mostly because it means that, even though you've decided to live separate lives, you'll ultimately remain forever connected thanks to shared parenting duties. That can be a tough reality if your split was less-than-ideal, but for some former couples, it can actually be a silver lining. In an interview with The Talk Tuesday, Fergie opened up about co-parenting with Josh Duhamel after the two publicly announced in September that they were separating after eight years of marriage. And although the decision must have been very difficult, it definitely sounds like they still have a lot of love and respect between them.
Fergie said that she was doing "as good as you can be" post-separation, and that other than the fact that she's now single, not much has actually changed about the pair's relationship, according to People. As parents to 4-year-old son, Axl, the singer says that raising their son together is still the priority, and added, "The good thing is we don't lose each other as parents. Everything basically is staying the same, except we're not a romantic couple anymore."
Since announcing their split last month, the couple has made a point to show a united front in public for the sake of their little boy, and it doesn't seem like that will be changing anytime soon. In September, Fergie told Entertainment Tonight that she and Duhamel were still close, as were their respective families who had come to be a part of each other's lives over the years. She said,
We're great friends, Josh and I. There's so much love that we have for each other. We really like each other, we have fun with each other. We're just not a romantic couple anymore.
But we are still Axl's parents through and through, and our families — each other's families, the cousins, my nieces and nephews — it's all the same. So that's the only thing that's changed.
That's not to say though, that she's been totally thrilled with the prospect of her marriage ending. Now that the singer is returning to the public eye — she released her second solo album, Double Dutchess, in September — she's inevitably had to field plenty of questions about the downfall of her marriage, and in an episode of The Wendy Williams Show set to air Thursday, Fergie teared up as she admitted that she hadn't exactly envisioned their relationship ending in divorce, according to TODAY. She said,
It wasn't my plan. I wanted to stay married forever ... [but] I love Josh, he's the father of my child, we forever have that project together, and we're doing the best we can.
That's likely a pretty heartbreaking comment to fans of the couple — who, let's be honest, always seemed like total #goals — but it also sounds like they really did work at saving their marriage before ultimately calling it quits. Williams spoke with Fergie about the fact that they had actually separated in February and kept the news under wraps before going public in September, and that they'd even attempted to reconcile. That obviously didn't work out, but the fact that they've been able to move ahead so amicably is definitely admirable.
When celebrity couples split and release statements emphasizing their continued love and support for one another, it can sometimes downplay the fact that, actually, it's still an incredibly painful decision — especially when it means sharing parenting responsibilities in a whole new way. From the sounds of it, it's still a really emotional time for the couple, which makes total sense. But the fact that they also seem really intent on prioritizing their son's needs and happiness above all — and that they continue to speak so highly of one another in public — shows that while it may not be the outcome they were hoping for, they're handling it really well.
Watch Romper's new video series, Romper's Doula Diaries:
Check out the entire Romper's Doula Diaries series and other videos on Facebook and the Bustle app across Apple TV, Roku, and Amazon Fire TV.