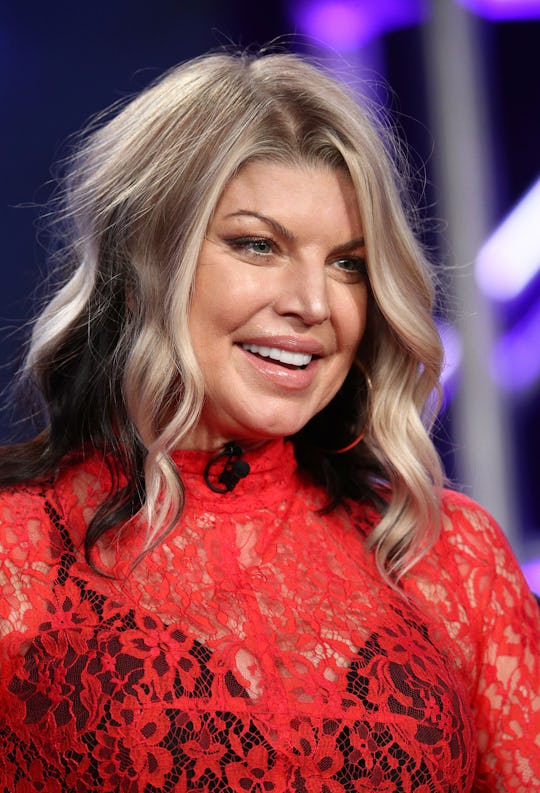 Frederick M. Brown/Getty Images Entertainment/Getty Images
Fergie's Comments About Juggling Work & Motherhood Is Literally Every Working Mom
Whether you work outside of the home full time or you're a stay-at-home parent, raising kids can be a challenging balancing act. (And an exhausting one, to boot.) Sometimes, it can be an incredibly isolating experience — like you're the only one struggling while everyone else seems to have their s*** together. That's probably why it's so refreshing when celebrities get real about what's happening behind the scenes. Because Fergie's comments about juggling work and motherhood is literally every working mom.
On Jan. 4, Fergie spoke with reporters during a TCA panel for her Fox singing competition The Four. Us Weekly reported the pop star opened up about being a busy, working mom to her 4-year-old son, Axl. "As any hard-working mom knows, it is a delicate balancing act that I have to be juggling all the time with the different schedules, the family schedules, the work schedules," the former Black Eyed Peas star said during the panel. "Sometimes I'm just a tired mom." Cue: Working moms across the nation shout a collective, "Amen, sista!" The way I see it, if someone as famous and successful as Fergie is having a rough time, then maybe feeling like I'm drowning in my responsibilities isn't so abnormal after all.
People reported that Fergie said she uses a color-coded Google calendar to help her track of parenting responsibilities and work. (I'm no pop star, but I just might have to ditch my refrigerator calendar and go digital.) "Spending time with Axl, just he and I is different than having a play date and him being around other kids so that's got to balance out as well," the 42-year-old explained. "They're different dynamics to each of the categories.There's never a dull moment, let's put it that way, so if you're a person that likes excitement than you will be very busy."
If you need a refresher, Fergie shares Axl with her ex, Josh Duhamel. The couple announced their split back in September 2017 after eight years of marriage, reported The Sun. Fergie and Duhamel released a joint statement to People on Sept. 14, which read:
With absolute love and respect we decided to separate as a couple earlier this year. To give our family the best opportunity to adjust, we wanted to keep this a private matter before sharing it with the public. We are and will always be united in our support of each other and our family.
Us Weekly reported a newly-single Fergie hasn't ruled out more children in her future. "You never know. I never say never. It's definitely a new year and the circumstances are ... new," she said. "So right now I'm not thinking about that because I've got so much on my plate and I'm just trying to be the best mom for my little Punky Pie. That's what I call him. I call him Punky because he loves pumpkin pie!" (How precious!)
I thought I knew the meaning of tired in college, when I was taking a full load of classes while working. (To be fair, it was a pretty taxing experience.) But after I gave birth to my first child, "tired" took on a whole new meaning. It was physical, yes — because caring for a tiny human and breastfeeding all day and all night has a way of catching up with you. But it was so much more than that; I was mentally and emotionally exhausted as well. Through the years, I've learned how to prioritize time for myself without feeling guilty for doing so — because taking the time to re-charge makes me a better, more present parent. It seems like Fergie knows this, too. "The thing that I would like to get more of in 2018 is a bit more me time," she said on Thursday, according Us Weekly. "Just to chill." Don't we all, Fergie. Don't we all.
Check out Romper's new video series, Romper's Doula Diaries:
Watch full episodes of Romper's Doula Diaries on Facebook Watch.