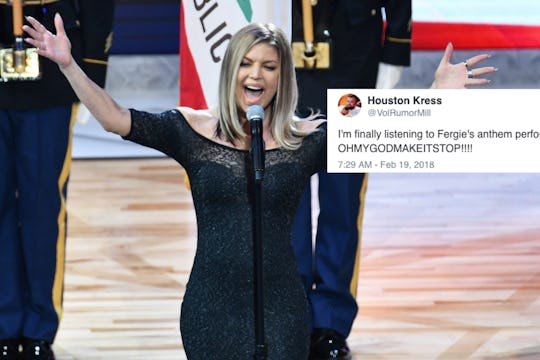 Allen Berezovsky/Getty Images Entertainment/Getty Images
People Are Still Recovering From Fergie Singing The National Anthem At An NBA Game
Being asked to perform the national anthem at a high-profile sports event is a pretty big deal even for a celebrity, so it makes sense that when Fergie sang the national anthem at the NBA All-Star Game Sunday night, she would have wanted to leave an impression. But judging from the Twitter reaction to her, um, unique performance, it probably wasn't the one she was hoping for. The big-voiced star seemed to attempt to give a dramatic, jazz-inspired take on the anthem, likely to try to show off her usually-impressive voice. But unless she was trying to make the crowd laugh, then it seems she totally missed the mark. And, well, social media clearly isn't letting her off the hook.
The former Black Eyed Peas frontwoman took center stage at the Staples Center in Los Angeles in front of a packed crowd that included a number of celebs, according to People. And while Fergie was clearly trying to bring her anthem A-game with a dramatic rendition, it didn't exactly translate. As the camera panned the crowd and the players, it was clear that many were having trouble keeping a straight face while she sang — and by the time Fergie finished her performance, Twitter was already on fire with some pretty hilarious reactions.
Although the performance started out innocently enough, Fergie soon started adding her own dramatic flair, and it didn't take long before watching it started to feel pretty uncomfortable.
In fact, the real heroes of the performance had to be the players themselves, who tried their best not to react to Fergie's take on the anthem (though, in all fairness, given how many times they've had to stand there while someone sings it, they have had plenty of practice).
Not everyone was able to downplay their reaction, though. Chance the Rapper and late night host Jimmy Kimmel could be seen chuckling in the audience, according to The Independent, and even some of the players seemed to be having a hard time.
Some couldn't help but compare the performance to Roseanne Barr's 1990 anthem performance at a San Diego Padres baseball game — which is definitely not the kind of comparison you'd want anyone to be drawing if you were Fergie.
In fact, even Roseanne herself couldn't help but offer up her take:
Though it's also entirely possible that Fergie's performance may have been an inspired nod to the most underappreciated fake anthem performer of all time, the great Maya Rudolph:
Interestingly though, it seems like this wasn't Fergie's first attempt at giving a signature take on the Star Spangled Banner. One eagle-eyed Twitter user found an old video of the singer performing the anthem at the White House in front of the Obamas, and well, whoever was in charge of booking Fergie for the All-Star Game may have wanted to watch this first:
But, to be fair, not everyone thought Fergie's rendition was deserving of such negative commentary. For one, some Twitter users pointed out that, actually, performing the national anthem is really, really hard — both because the song itself is tough, and because it feels like a lot of pressure:
And Fergie has always been pretty over-the-top when it comes to her performances:
But the overall social media consensus seems to be that, when it comes to the national anthem, "seductive" probably isn't the vibe anyone should be going for:
It seems pretty clear at this point that, even if you're a fan of Fergie, we can probably at least all agree that her version was totally extra. Then again, well, is Fergie ever not extra when she's on stage? Fergie hasn't yet commented on the commotion over her performance (though I don't exactly blame her), and to be fair, some of the criticism does seem a bit much. But as far as entertainers go, Fergie definitely seemed to have done her job — even if you hated her rendition, her performance and the resulting onslaught of hilarious tweets has definitely been entertaining.