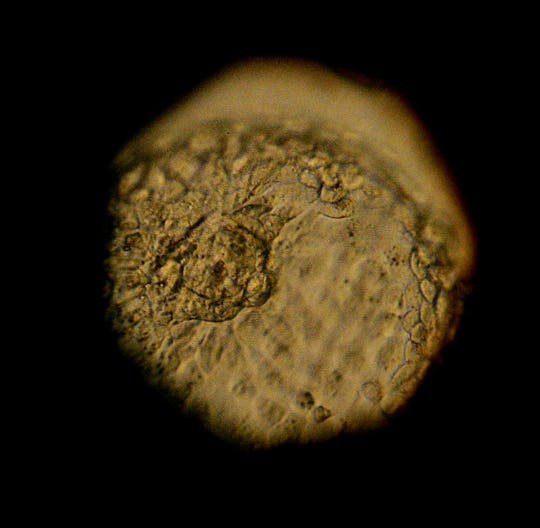 Sandy Huffaker/Getty Images News/Getty Images
Fertility Scorecard Shows Best & Worst States For Treatment
Struggling to get pregnant is a painful and costly issue. And depending on the state in which you live, various forms of health care legislation and a lack of fertility specialists can make it all the more difficult to try and start a family through alternative methods like in vitro fertilization or surrogacy. For instance, Connecticut, Illinois, Maryland, Massachusetts, New Jersey, or Rhode Island are the best states to live in for couples with fertility issues, while Alaska, Mississippi, and Wyoming are the worst states, according to a new fertility scorecard that grades states on access to treatment by RESOLVE: The National Infertility Association.
RESOLVE — along with EMD Serono, a pharmaceutical company and research center — assessed each state's "fertility friendliness" by looking at whether they offer insurance coverage — or an insurance mandate — for fertility treatments, the number of fertility specialists in the state, the number of women with fertility issues, and the amount of peer-led infertility support groups.
"The Fertility Scorecard has become an important tool to help us identify state-by-state disparities in access and support and to bring attention to what desperately needs to be done in terms of improving access to infertility treatments and medical care," Barbara Collura, President/CEO of RESOLVE: The National Infertility Association, said in a press release.
You can see the scorecard below, or view an interactive map here:
This year's report is the fourth time the organization has compiled such data. And regarding the states that were given "A" and "F" grades, not much has changed since 2014. (New Hampshire did move up two letter grades from an "F" to a "C" this year.) But there was a change that Collura did notice: The high volume of state legislation that's been introduced that would jeopardize access to fertility treatment.
That's where the blue dots on the map come in: If your state has a blue dot — more than half of them do — that means state lawmakers are trying to pass laws that either restrict or expand access to infertility treatments.
"We've seen sort of a disturbing increase in a lot of state legislation that would really impact people's access [to care]," Collura told Romper in an interview. "You're not going to see so much with the grade because we haven't actually seen huge differences in the criteria we use for the grade, but we have definitely seen more negative state legislation."
She continued, "I have seen it become worse and not better in terms of the fertility friendliness overall. And really that's the most disturbing trend for me."
While current legislation under the Affordable Care Act, also known as Obamacare, does not require states to cover fertility treatments like IVF — although 15 states have passed laws that require insurers to either cover or offer coverage for infertility diagnosis and treatment — it does protect people from being denied insurance coverage for having a pre-existing condition.
Infertility was considered a pre-existing condition until the ACA passed in 2010 and prior to that, people with fertility issues were often denied health care coverage. Seven years later, that fear has resurfaced, now that states could be able to opt out of this Obama-era protection if the GOP's health care plan, the American Health Care Act, passes in the Senate in its current form.
"If they are to change [the pre-existing condition protection], I'm fearful that people with infertility will again be denied coverage," said Collura, who will be gathering with hundreds of fertility advocates from across the country in Washington, D.C., on Thursday to pass out these scorecards and talk with members of Congress about important issues.
As the future of these blue dots and the nation's health care laws hang in the balance, those who struggle with infertility can make their voices heard by reaching out to their state legislators — write them, visit them, or give them a call to express your concerns with these bills that could further impact access to care.
"The biggest thing is not be complacent and to get involved," Collura said.