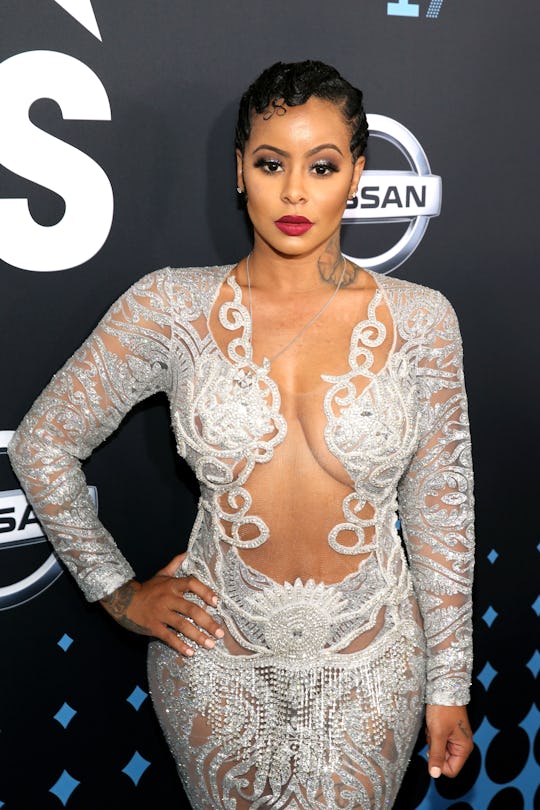 Bennett Raglin/Getty Images Entertainment/Getty Images
Fetty Wap's Ex Alexis Skyy Shared This Sweet Video Of Her Holding Their Baby In The NICU
Many parents deal with the emotional journey of giving birth to a preemie baby and Fetty Wap and his ex Alexis Skyy have been going through just that recently. Fortunately, the Love & Hip Hop: Hollywood star has managed to keep a positive outlook. Recently, Alexis Skyy shared a sweet video of her daughter in the NICU after she was born prematurely, according to People. Alaiya Grace was born on Jan. 4, 2018, three months early, and she weighed in at just 1 lb. when she was born.
In Skyy's adorable video with baby Alaiya, Skyy is shown saying, "Who's mommy's princess? I love you." Skyy also give her little one a kiss on her head as she held her close. With the video, Skyy wrote the following caption:
My happiest moments are with you princess Laiya ... my heart beat my world i love you baby.
Just yesterday, Skyy posted online, according to People, that she "can't wait to hold my baby tomorrow I'm so excited." She also called it "kangaroo time." This appears to be Skyy's first time being able to hold little Alaiya and the video is so heartwarming. Though Skyy is not able to bring her baby home with her yet, VH1 reported that she visits her daughter in the NICU several times a day. Baby Alaiya will reportedly remain in the NICU for the next few months, according to VH1.
Both of Fetty Wap and Skyy were also born prematurely, according to VH1, so they have confidence their little one will pull through just fine. Skyy revealed in a live chat that, as reported by VH1:
[Alaiya] is actually pretty healthy. It's scary, she's so tiny. She's not fully grown. I wasn't even at the 30-week mark yet. I was only 24 weeks. Just got to be positive.
Though Fetty Wap is in a new relationship, according to Hot New Hip Hop, he rushed to the hospital to be by Skyy's side when she was suffering from pregnancy complications. Clearly, though the couple is no longer together, they are supporting one another during this time. Bossip recently reported that Skyy wrote on Instagram to a commenter:
He will be my child's father and the next chapter will go on in my life I won't be sitting around waiting for him to be a family with me..or be with me. I made the decision to have my baby and I'm going to raise my beautiful queen to be stronger than me.
This is the first child for the ex-couple, though Fetty Wap has additional children from other relationships. TMZ reported that Fetty Wap is currently dating girlfriend Yaya, who just launched her own fashion line Omaj by Noir. Yaya is pictured with Fetty Wap in the below Instagram photo.
Editor's Note: The Instagram post has since been deleted.
In honor of her daughter's birth, Skyy got a tattoo on her wrist that says her daughter's name "Alaiya Grace," along with her birth date, according to VH1. How cute is that?
One percent of babies in America are born premature at less than 28 weeks, according to Baby Center, and those who are born this early need oxygen, surfactant, and mechanical assistance for breathing. Preemie babies often remain in the care of a hospital for several months after they are born. According to Women's and Children's Health Network, premature children stay in the hospital for any time up to 10 weeks, though there are rare occasions that they stay longer.
Fortunately, little Alaiya appears to be doing well and Skyy can finally hold her baby. Though there is still a long recovery road ahead for Alaiya, she appears to have a very loving mommy at her side.