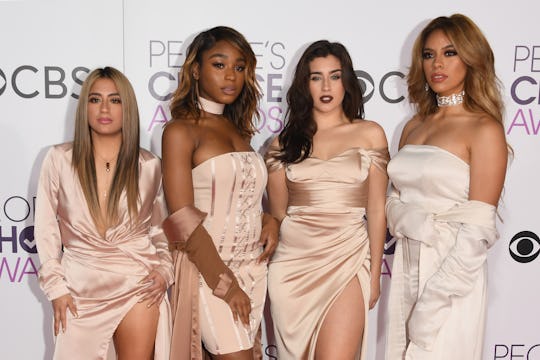 Alberto E. Rodriguez/Getty Images Entertainment/Getty Images
Fifth Harmony Performed As A Foursome At The PCAs
Last year ended with a lot of drama for Fifth Harmony. The group announced that Camila Cabello was officially leaving the group on social media and then Cabello said she was shocked by this news and then the group said that was a lie and, well, you know the rest. The point is the group of five is now a group of four and on Wednesday night Fifth Harmony performed as a foursome at the 2017 People's Choice Awards for the first time. While I'll always love Camila I must say the ladies killed it as a group of four and I'm excited to see what they do next.
When it was announced that Fifth Harmony would be performing at the PCAs, I was immediately nervous for them because, let's face it, there was only one thing everyone cared about: could they succeed without Camila? Thankfully, there was no reason to worry. Lauren, Normani, Ally, and Dinah rocked the stage just as they always do. The four girls performed their hit single "Work From Home," and for Camila's solo, which opens up the song, the group of four started singing together and then Lauren took over. In the past, fans have felt that Lauren didn't get enough solos and it seems like now is her time to shine and I'm totally here for it.
As each girl sang their solos, their names popped up on the screen behind them and it seemed a little bit like they were reminding viewers who was still in the group. Then again, maybe I'm just looking for drama. I tend to do that. After their epic performance, the four ladies then accepted the People's Choice Award for Favorite Group for the second consecutive year. Lauren profusely thanked the "team," which may have been in an effort to correct the reportedly leaked tape of her claiming the management treated the girls like slaves. The ladies also thanked their fans, Harmonizers, and promised there would be even more to come from the group soon.
It's nice to see the girls are back to work and aren't letting the split stop them from still killing it on stage. I honestly can't wait to see what they do next in the months and years to come.