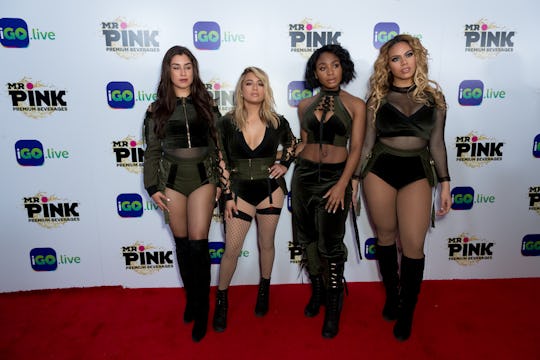 Greg Doherty/Getty Images Entertainment/Getty Images
What Happened During That Super Awkward Fifth Harmony VMAs Interview
The 2017 Video Music Awards kicked off on Sunday night and with them came, unsurprisingly, the mandatory drama. So, now that the dust has (somewhat?) settled, what did the interviewer ask Fifth Harmony on the VMAs red carpet? Fifth Harmony's response to the Camila Cabello question at the VMAs shows it was so awkward, and also kind of offensive. As everyone knows, one of Fifth Harmony's original members, Camila Cabello, officially left the group in December 2016. In a statement, Cabello explained that she was upset things ended the way they did, but she is ready to move on, according to Billboard. "As sad as it is to see this chapter ending this way, I will continue to root them all on as individuals and as a group, I wish nothing but the best for them, all the success in the world and true happiness."
But, even though the other four members of the group — Ally Brooke, 23, Normani Kordei, 20, Dinah Jane, 19, and Lauren Jauregui, 20 — have all moved on as well, someone at the VMAs couldn't let it go. While speaking to the group, host Charlamagne couldn't help but wonder, "now, if y'all win the award, do y'all give one to the member who's no longer in the group?" And it was seriously awkward, and unnecessary.
What's more? The group's reactions were totally natural, and prove how caught off-guard they were. In response to Charlemagne's question, the girls simply smiled awkwardly and deflected. "Well, if we win for best choreography, we'll actually give it to our choreographer," Kordei responded, handling the situation with as much grace as is humanly possible.
Because seriously, it's not really anyone's business how the group handles their award wins. Obviously, when a group breaks apart, or even when just one member leaves, it's awkward. And trying to throw shade or start even more drama is totally not the way to handle things.
Neither is pitting women against each other, which is essentially what Charlemagne's question did. Even though Fifth Harmony is missing one original member, everyone involved in the group, including Cabello, is strong, fierce, and talented.
Even though celebrities deliberately live their lives fairly publicly, that doesn't make it OK to bring up personal issues they've dealt with in front of cameras when they aren't prepared.
Because at the end of the day, they're just humans, trying to do their jobs. If they don't address the drama, that's up to them.