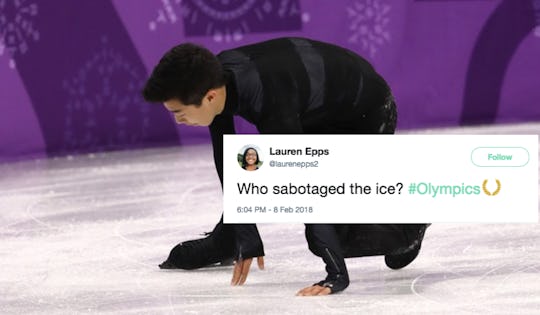 Robert Cianflone/Getty Images Sport/Getty Images
Figure Skaters Keep Falling At The 2018 Winter Olympics & Twitter Is So Pissed
The 2018 Winter Games are finally here and there's already so much to talk about even before the opening ceremony. On Thursday night, Twitter was really concerned about all the figure skaters falling down during the men's short program at the 2018 Winter Olympics in PyeongChang, South Korea. Things really did seem to get off to a rough start. But hey, things could only go up from here... right?
As Yahoo! Sports reported on Thursday, American figure skater Nathan Chen "wiped out in his fifth jump in his short program" but quickly jumped back up to finish his routine. The 18-year-old ended an initial score of 80.61, according to Yahoo! Sports. His score, according to People, is good enough to place him in fourth, and the Team USA will need to stay in the top five to advance to the second half of the team event. So there's no need to panic just yet.
But Twitter was pretty devastated by his tumbles and newscasters in the immediate aftermath questioned how he'd come back from this. In fact, former U.S. Olympic figure skaters and commentators Johnny Weir and Tara Lipinsky gave Chen rather harsh reviews. Weir reportedly said it was the "worst short program" he'd ever seen, according to Yahoo! Sports.
When Chen was asked about his performance afterwards, he told NBC News, "I think I was a little bit in my head. I apologize to Team USA. I'm going to have to readjust ahead of the individual event."
But Chen wasn't the only one; Twitter quickly noticed how many skaters were falling and not successfully landing jumps on Thursday night, some even said they thought the ice was "cursed" or that they were worried that someone had "sabotaged the ice."
What Was With The Ice?!?
But Really... Is Something Wrong With The Ice?
Was It Just That *One* Spot?
Twitters seems convinced that there was some larger conspiracy theory happening on Thursday night, but it's also possible that these athletes had a bad case of the nerves on the very first night on this year's Olympics. After all, as the night progressed and the couples hit the rink, there were fewer tumbles to be noted. Whatever the case may have been, viewers watching from the United States were still rooting for Chen, though they were admittedly a bit bummed.
As Chen told reporters after his short program, he wasn't happy with his performance, but he's confident he'll make up for it. According to NBC news, he said:
I was really excited. I felt pretty good… I'm really upset that I let the team down with that short program…but I still have two more big programs that I have to do, and so I will focus on that and do a better job. I let myself down, and I let the team down. It's not a representation of who I am, and what I can do. I need to work hard in the next couple days.
Videos of the falls aren't readily available, but here is a look at Chen's fall on Thursday night.
It seems as though, as Chen admitted, nerves possibly played a role in his performance. But as Business Insider noted, hopefully Chen "can manage those nerves in the men's individuals" as the Winter Games continue. As People reported, Chen will "return to the ice" and could compete in more event if Team USA advances.
But if Chen and other Olympic skaters keep falling... Twitter is going to demand a thorough investigation.
Check out Romper's new video series, Bearing The Motherload, where disagreeing parents from different sides of an issue sit down with a mediator and talk about how to support (and not judge) each other's parenting perspectives. New episodes air Mondays on Facebook.