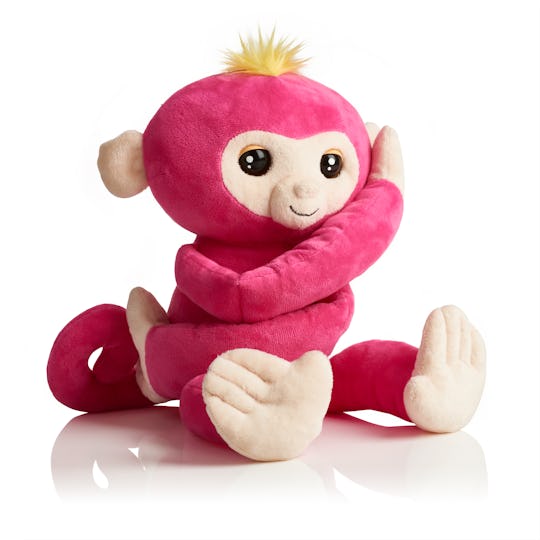 WowWee
The New Life-Sized Fingerlings Are Finally Here, & Your Kids Are Going To Love Them
If you remember last Christmas at all, you certainly remember the Fingerlings fever that seemed to sweep the nation's children. The small toys would coo and cuddle your finger, and just generally be adorable, while people were queuing up for the chance to score one of the tiny interactive toys. Well, the fad isn't over — it's just changed a bit. So get your credit cards ready because Fingerlings Hugs are coming, and they're more adorable than ever.
Fingerlings Hugs are a larger, plush version of the original huggable toy, with long arms and over 40 loaded phrases. They give kisses and repeat phrases as well. And now these toys are officially being sold at major retailers like Target and Amazon, and will cost parents $29.99. Currently, they're featuring a blue monkey named Boris and a pink monkey named Bella, but knowing the cunning marketing team at WowWee, it's only a matter of time before we see a broader range of characters available in this new Hugs format.
Not that it matters right now, because your children are obviously going to beg your ear off to get this new toy hot off the shelves. But be careful what you say around these Fingerlings, parents. Turns out, they'll repeat everything like a 2-year-old learning to string sentences together.
The options on these plush toys are crazy. They react to being tickled, kissed, hugged, and spoken to, and the longer you kiss them, the longer they kiss you.
But they also snore, y'all. Like genuine, adorable little hot pink, stuffed, animatronic monkey snores. It doesn't get much cuter than that. Oh wait, hold the phone one minute. They also fart. Because of course the plush monkey farts. Who doesn't want a farting toy designed for hugging? It's just like marriage, guys! (I'm sorry, but if you hug a very pregnant woman, you're asking for it.) Just shake the Fingerlings Hugs, and there you have it, it passes gas like its smaller counterpart.
Fingerlings Hugs are coming for you, parents, so you better be ready. Christmas is on its way, and like the Fingerlings that flew off the shelves last year, these Hugs are going to be a major hit for every kid writing a list to Santa.
But be sure to encourage the grandparents to find this toy. That way, when this interactive toy inevitably comes alive sporadically like my children's other talking toys, farting in darkness, or snoring when no one is around, you won't be the one calling the priest, your mother will. It serves her right for not waiting in 1993 to get you the Crimp and Curl Cabbage Patch Doll that you so desperately wanted, all because she didn't have the fortitude to throw some elbows. This is all hypothetical, by the way. I'm sure my mother tried. (Just not very hard.) She'd totally go bananas on the queue for her grandkids, though, so I'm sure they'll be getting the Fingerlings Hugs. At this point, I kind of want one, too.