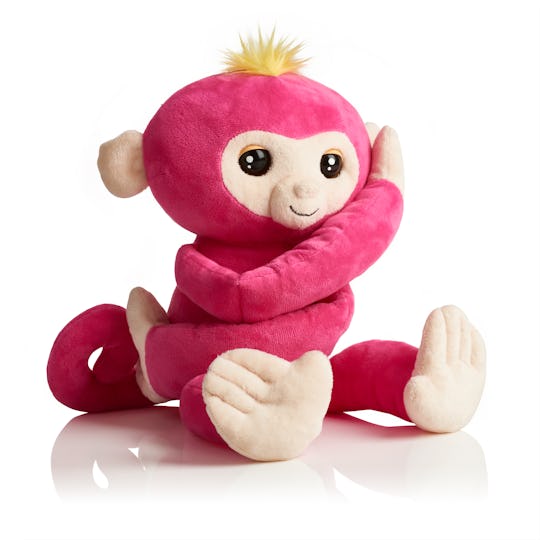 Courtesy Of WowWee
OMG The New Stuffed Giant Animal Fingerlings Are So Freakin' Cute & Cuddly
If you have kids, then you probably know all about the super popular Fingerlings toys. Tiny robotic figures that can cling to your finger, they are the collectible monkeys, unicorns, and sloths kids love. Now Fingerlings are available in a totally new form. The Fingerlings Hugs are giant, soft, plush versions of Fingerlings baby monkeys, and they are one of the hottest toy releases of 2018. You can expect to see these monkeys at the top of your kid's wish list soon.
Plush editions of the original Bella and Boris Fingerlings baby monkeys, Fingerlings Hugs have their own ways of responding to cuddles and affection. ​It's the same level of interaction in a soft plush toy. Programmed with over 40 animations, Fingerlings Hugs respond when your kid swings, pets, or rocks them to sleep. They can even say "ouch" when dropped. For more entertainment, the Fingerlings Hugs can record what your kid says and repeat it back in a funny voice. You can then throw them in the air for a silly remix. Plus, its arms can wrap around your kid for a hug, making it easy to take anywhere.
Best of all, you don't have to wait much longer to try out these toys in person. Fingerlings Hugs will be available at major retailers, including Target, Amazon, Walmart, and Kohl's, on August 10, 2018. (You may want to confirm availability with your local store first, though.) Safe for children ages 2 and up, Fingerlings Hugs will retail for $30.
Made by the toy company WowWee, Fingerlings have taken the toy world by storm in recent years. In addition, Fingerlings won the 2018 Toy Of The Year Award from The Toy Association. (It's like the Oscars for toy manufacturers, so this is a big win.) Cute, collectible, and interactive, these toys became wildly popular in no time. In fact, the original Fingerlings sold out in stores all over the country following their US debut in August 2017, as noted in TIME. "I don't think we could've anticipated what's going on right now," said Fingerling creator Sydney Wiseman in regard to the toy's success. "It's just phenomenal."
At this time, the original-sized Fingerlings are available in several different forms. In addition to the original monkey figurine, there are also unicorn, sloth, and even dragon Fingerlings available in a variety of colors. Plus, some have a cool glitter finish.
There are also Fingerlings minis, which are even smaller collectible figures sold in a blind bag. The minis have little crooked tails that can latch onto keychains, zippers, or just about anything else. It's a very cute addition to the line, and I can see kids getting super into collecting them.
For such a new toy, Fingerlings are wildly popular and beloved by many children. And it looks like their newest, softest additions are set for the same success as well. Cute, cuddly, and interactive, Fingerlings Hugs could easily become the hottest toy of 2018, as well as the most prized possession in your own kid's collection.