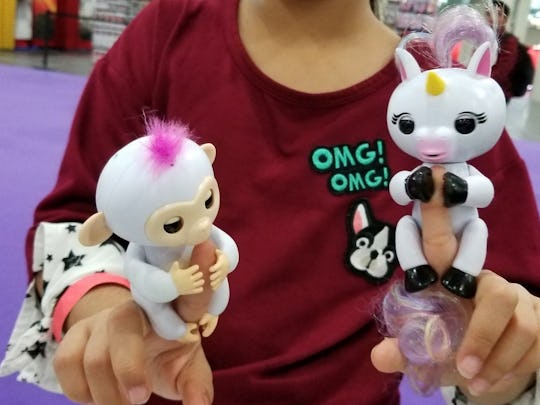 Courtesy of Mishal Ali Zafar
A Fingerlings Shipment Will Hit Toys "R" Us On Dec. 17, So Parents Should Get Ready
Santa has been getting plenty of requests for Fingerlings recently — they are undoubtedly one of the hottest toys of the year. Parents have been hunting for Fingerlings high and low with no luck, and even poor Santa can't get his hands on one. These super popular toys are flying off the shelves, and sell out online in seconds, but there is a tiny little glimmer of hope. Some Fingerlings shipment will hit Toys "R" Us stores on Dec. 17, so parents should get ready to pounce.
A representative for Toys "R" Us tells Romper via email that their stores will be selling the exclusive Gigi Unicorn Fingerling nationwide on Sunday, Dec. 17. The representative also suggested that because stores will have a limited inventory, customers should be ready to get in line bright and early. Doors open at 6:00 a.m. local time, so get there as early as you can if you want to snag one of the season's most sought after Fingerlings.
Gigi is literally the elusive unicorn of the Fingerling gang. The manufacturer, WowWee, first introduced their line of Fingerling monkeys in six different colors and characters — Bella (pink), Boris (blue), Finn (black), Mia (purple), Sophie (white), and Zoe (teal). When they released Gigi the Unicorn, she quickly became one of the most popular and most wanted Fingerlings, with scalpers charging up to three times the original price on websites like Ebay and Amazon.
So why are Fingerlings so popular? They are one of the few interactive, robotic toys that are actually affordable. And for the low price point of $15, they really pack a punch. Most popular robotic toys are $100 or more, and require some sort of complicated command sequences. Fingerlings, on the other hand, are straightforward and simple to use, making them the perfect robot for younger kids who just want to play.
Like the other Fingerlings, Gigi has two sensors on her head, which make her respond to motion, sound, and touch. She can react to your touch and sound, with 40 different animations and sounds. Kids love to play with Fingerlings because they sort of just hang out on their fingers or notebooks (or any other clingy surface), and bat their eyes, turn their heads, fart, burp, and even blow kisses when you blow a kiss at them. Fingerlings can be rocked to sleep, too, and you'll know because you can hear them snore. Seriously, what's not to love?
The popularity of Fingerlings, along with their affordable price point, is what has them sold out everywhere. They are either bought up by anxious parents (the lucky ones), scalpers, or bots (algorithms designed to buy up online stock as soon as it becomes available). While the lucky few parents can wrap their Fingerlings to put under the tree for Christmas, scalpers put their Fingerlings on Ebay and Amazon for two to three times the profit. So you can always pick one up for a higher price, but if you can manage to get one at regular price, why not try?
Honestly, I'm pretty excited about this Fingerling news. My daughter has been wanting a Fingerling for a while, and she was especially keen on getting Gigi the Unicorn. I've tried to hunt them down at local Toys "R" Us and Walmarts with no luck, and I even tried setting stock alerts with websites like Zoolert and NowInStock.
As unsuccessful as I was, I still was not ready to head to Ebay to spend $40 on a $15 item, because in principle I find that to be ridiculous. Luckily, with this new stock at Toys "R" Us stores, I may have a chance to pick one up in time for the holidays. So if you want to get your hands on Gigi too, I suggest you remember to get out of bed early on Sunday, Dec. 17, and be in line at your local Toys "R" Us before 6:00 a.m.
Check out Romper's new video series, Romper's Doula Diaries:
Watch full episodes of Romper's Doula Diaries on Facebook Watch.